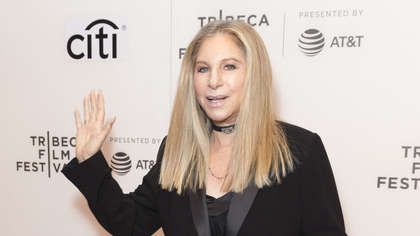 Having starred in the 1976 version, Barbra Streisand has criticised Bradley Cooper's remake.
Despite having initially given Cooper her blessing, Streisand has now said she wasn't entirely happy with the finished product.
Streisand is now saying she was led to believe the movie would star Will Smith and Beyoncé, and was disappointed to see how much it resembled the version of the story she starred in with Kris Kristofferson.
"At first, when I heard it was going to be done again, it was supposed to be Will Smith and Beyoncé, and I thought, that's interesting," Streisand said in an interview with Australian chat show The Sunday Project. "Really make it different again, different kind of music, integrated actors, I thought that was a great idea. So, I was surprised when I saw how alike it was to the version that I did in 1976."
"I thought it was the wrong idea," added Streisand, who admitted the film was ultimately a critical and commercial success. However, she stipulated that "I don't care so much about success as I do originality."
Streisand's comments are in stark contrast to her words on the film during its promotional run back in 2018. The legendary singer was quick to endorse Cooper's at every opportunity back then.
"She gave us a blessing," Cooper said of Streisand's reaction when he informed her of his plans to remake the film.
Streisand even paid a visit to the set of Cooper's take on the story.
"Everybody was so excited she was there," Cooper said. "We just looked at each other and were like, 'Wow. How are we here right now?'"
Cooper's co-star Lady Gaga described Streisand as "So, so kind" during her visit.
Asked if she had seen Cooper's film in a 2018 Variety interview, Streisand replied "Of course I've seen it. I loved it. I think it's wonderful. She's [Lady Gaga] wonderful."
"I think he did a wonderful job with her," Streisand said of the acclaimed performance Cooper elicited from Gaga. "I thought when it was going to be done [with Beyoncé] it was going to be very different and have a multiracial cast, and the music was going to be rap. But it's more like the movie I made."
Rumours of Will Smith and Beyoncé starring in a remake of A Star is Born had been floating around since 2002 when Smith was tapped to star alongside Jennifer Lopez. By 2011 it seemed as though Clint Eastwood was set to direct a remake with Beyoncé starring opposite Leonardo DiCaprio. Ultimately, neither version came to fruition.
Cooper's version was the fourth time the story was told. The first A Star is Born was made in 1937 and set against the backdrop of Hollywood. Janet Gaynor played an aspiring actress whose rise is helped by a fading movie star played by Fredric March.
The film was remade in 1954 with Judy Garland playing a rising singer and James Mason as the declining older movie star.
Streisand and Kristofferson's 1976 version was the first to be set wholly in the music industry, with Streisand as the ingénue and Kristofferson as the troubled rock star.
As Streisand has pointed out, Cooper's movie closely followed the plot of the '76 film, playing out in the world of country music. The film proved a massive hit, taking $436 million at the box office from a $36 million budget. Thanks to the soundtrack, Gaga became the first woman to win an Oscar, BAFTA, Grammy and Golden Globe in the same year.