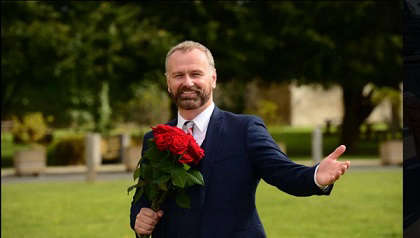 Rose Of Tralee host Daithi O'Sé has said that he is looking to speaking to a trans Rose on stage when the iconic event returns next week. He revealed that it would be "hugely positive to hear about that person's life".
The iconic Irish event returns for the first time in two years, having been cancelled due to the pandemic. Starting on August 19, the show runs for four days until the 23rd.
This year's show also sees a number of rule changes, including the inclusion of married women to compete, while the age limit has increased from 28 to 29 years of age.
Speaking to the Business Post, O'Sé has revealed that he is particularly looking forward to speaking to a transgender Rose on stage, whilst also calling the rule changes "fantastic".
"The Rose of Tralee space is for everyone and I can't wait for the day we have a trans Rose on stage", O'Sé said.
"I mean could you imagine the conversation?", he continued. "I think it would be hugely positive to get to hear about that person's life, from the day they were born to the day they came on stage".
O'Sé also added that the "invitation is there" for transgender women to enter as Roses.
"The way we break down the barriers is to talk about all these things", he stated. "I haven't met the current Roses yet, so I don't know if we have a trans contestant this year, but we need to put out those positive vibes".
The Kerry native also claimed that the Rose of Tralee has moved with the times, and represents a modern Ireland. "The last time we were on stage we had doctors, engineers, occupational therapists", the presenter explained. "It does reflect the great things Irish women are doing at a certain point in time".
Regarding the criteria needed for a lady to be crowned Rose of Tralee, Daithi O'Sé revealed that personality is an important trait.
"It's a celebration of them as a person and a celebration of the community that they come from", he said.
This year's festival will also take place live from Munster Technological University's sport's arena.