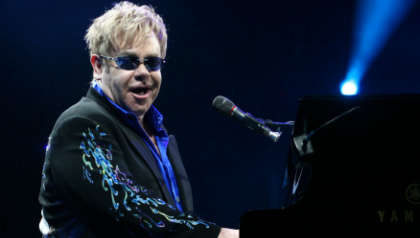 As we confirmed to you earlier, Elton John will headline the Pyramid Stage at Glastonbury 2023, and fans have given their reactions.
Taking place on 25 June next year, this show will mark Elton John's final UK show of the music legend's last ever tour.
"I couldn't be more excited to be headlining the Pyramid Stage", Elton John said in a statement. "As the end of my Farewell Yellow Brick Road tour comes into view, there is no more fitting way to say goodbye to my British fans,".
"They have been beyond brilliant, and have supported me through all the highs and lows of my career … I can't wait to embrace the spirit of the greatest festival in the world".
Having confirmed this news earlier on Friday (December 2), Glastonbury organisers said this, "We are incredibly excited to announce that the one and only @EltonOfficial will headline the Pyramid Stage on Sunday night at Glastonbury 2023, for what will be the final UK show of his last ever tour".
In a separate statement, Emily Eavis had this to say.
"It gives me enormous pleasure to let you know that the one and only Elton John will be making his first ever Glastonbury appearance, headlining the Pyramid Stage on the Sunday night next year", she wrote. "This will be the final UK show of Elton's last ever tour, so we will be closing the Festival and marking this huge moment in both of our histories with the mother of all send-offs".
"We are so very happy to finally bring the Rocket Man to Worthy Farm!".
Fans React:
Following this news regarding Elton John's upcoming Glastonbury performance, fans have been sharing their delight.
Yes @eltonofficial headlining @glastonbury on my 50th birthday weekend! Thanks @emily_eavis Michael and Nick #rocketman 🚀 ❤️

— Rob da Bank (@RobdaBank) December 2, 2022
Talking about Elton headlining #Glastonbury all morning, and it's making me so emotional each time.
The fact that we get to celebrate his career with him in this way is just incredible! This will be a match made in festival heaven ❤️💫🤩🚀 @glastonbury #EltonJohn @eltonofficial

— Glastopia (@Glastopia) December 2, 2022
I've been manifesting this for years. Today is a very good day🚀🕺🏻

@eltonofficial at @glastonbury 😍❤️ pic.twitter.com/qv2HLnR9gc

— Damon (@damfly27) December 2, 2022
Cant argue with that - even if you subjectively dont like his music its one of the most significant musical acts in the UK ever and its his last ever show on these isles. If its not your thing, there are 50+ other stages to choose from 👏🏼

— Ashley Brancker (@AshBrancker) December 2, 2022
the joy in @knockback78
the joy she brings ❤️ pic.twitter.com/bQODVxuQJ6

— Ashley McKay (@Ashley_McKay) June 26, 2022
OH MY GOD ITS OFFICIAL IM SEEING ELTON JOHN AT HIS LAST EVER UK TOUR DATE EVER HEADLINING THE GLASTONBURY PYRAMID STAGE

— laura (@isthevodkagay) December 2, 2022