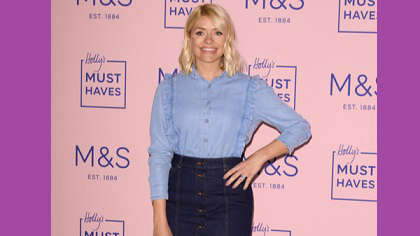 British presenter, Holly Willoughby has a new project on the horizon; Wylde Moon, where she will focus mostly on all things spirituality, wellness, and healing.
Britain's Holly Willoughby has announced the launch of her own lifestyle website. The morning show presenter described her new project, Wylde Moon, as very personal to her, and will focus mostly on all things spirituality, wellness, and healing.
Holly took to Instagram to share the news: "WYLDE MOON is live! I'm so excited to introduce you to @wyldemoon, a very personal project that I have been working on for a long time. It is a space full of things that I love and people that inspire me… from beauty and fashion, to energy and healing."
"Each month, on the full moon, we will be adding exciting new content & watch out for the WYLDE MOON boutique launching soon. This is just the beginning."
Holly gained inspiration to create her project while co-hosting I'm A Celebrity… Get Me Out of Here! In 2018, exploring the world of alternative therapies, such as meditation and sound baths.
40-year-old Holly wrote on the site: "I've been wanting to do something different for a long time but timing is everything, so it had to feel right. I've reached that place in my life where I'm ready to do something like this."
"WYLDE MOON feels very personal to me and, even though I am someone who lives a lot of their life out there for people to read about, there's still a lot of me that I've kept to myself. Part of that I've done for protection and part of that is because I'm still working it all out."
"WYLDE MOON has been evolving since I've been evolving, and it will continue to develop and change as I continue to develop and change. And I think the reason it's here now is because I've got to a point where I'm ready to share these things with the world and I've got time to really focus on it."
"I've changed a lot in the last few years and I've benefited from so many of the things that I've been doing, so I'm really excited to share those with other people," she added.
Split into seven categories, the website caters women, moonboard, podcast, energy, beauty, style and family. The first episode of Wylde Moon's accompanying By The Light of the Moon podcast features actress Lena Dunham.