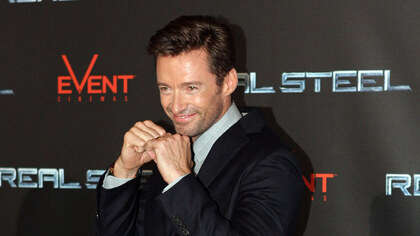 Hugh Jackman has warned his fans to wear sunscreen and get skin checks following the results of his latest skin biopsy.
The Australian actor recently acknowledged that he has undergone skin cancer treatment a total of six times in the past. He has now revealed that he underwent a biopsy last week.
The procedure was prompted when Jackman's doctor noticed something "irregular" on his nose.
Jackman updated his fans on his Instagram, letting them know that the results of the biopsy were "inconclusive." The actor will now need to be re-tested.
The 52-year-old star says he isn't worried about the ultimate result of a deeper test. His doctors have assured him that the worst outcome would be a non-threatening diagnosis of Basel Cell Carcinoma.
"Firstly, thank you everyone for your incredible support. I got so much support for the biopsy I just had," Jackman said in an Instagram video. "I promised I'd keep you updated."
The actor revealed that he prevented his doctors from investigating too deeply as he about to start filming.
"It actually came back inconclusive which means they didn't take enough because I am about to start filming so we didn't want to go too deep," he said. "They are not worried. What did come back made them not worried. If it's anything, it is a Basel Cell Carcinoma which is not threatening but needs to be taken care of."
Jackman will return for another biopsy in a few months' time when he has completed filming.
The Wolverine star cautioned his fans to wear sunscreen and get skin checks.
"I know I'm repeating myself and will probably not stop … please get skin checks and wear sunscreen," he wrote on Instagram. "Thank you all for so much support. I'm seeing your comments and stories. If by posting about this I remind one person to go see their dermatologist - I'm happy."
"I'll get another biopsy when I've finished filming in about two months and I'll let you all know, I'll keep you updated," Jackman promised his fans. "Wear sunscreen, get a skin check whenever you can. Thanks for your support, it means a lot."
Jackman was first diagnosed with Basal Cell Carcinoma in 2013. Since then he has had check-ups every three months.
On a lighter note, actor Ryan Reynolds has continued his mock feud with Jackman, claiming he's "not even Australian."
The two stars have had a running gag for several years now in which they trade barbs at every opportunity.
In the latest bout, Reynolds says he's the one being bullied by Jackman.
"I never do this but I'm going to say that I'm the victim here," Reynolds said in a recent interview. "Let's not forget that."
Reynolds continued to mock the Aussie star. "You know he's not even Australian, he's been fooling you guys for decades. He is from Winnipeg. Canada. Take that and put it in your pipe and smoke it."
Both actors have new movies coming to Irish cinemas over the next couple of weeks.
This Friday, August 13th, Reynolds can be seen opposite Killing Eve's Jodie Comer in Free Guy. Reynolds plays a video game character that becomes sentient in the action comedy.
On August 20th, Jackman stars alongside Rebecca Ferguson in Reminiscence. This one is a "neo-noir" sci-fi thriller in which Jackman plays a private eye with the psychic ability to tap into clients' lost memories.