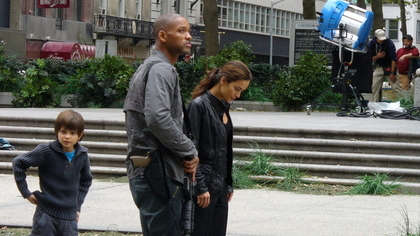 Screenwriter Akiva Goldsman has mocked the conspiracy theory that has sprung up around the Will Smith movie I am Legend, which he wrote.
Opponents of vaccinations have been looking far and wide for reasons to justify their stance. Some have even used the plotline of the 2007 Will Smith sci-fi movie I am Legend as a reason to avoid vaccination.
In the film, Smith plays Robert Neville, a US Army virologist who seemingly becomes the last man left alive on Earth after an attempt to cure cancer by mutating the measles virus backfires. 99% of the world's population dies, while the rest turn into vampiric, albino creatures that can only come out at night.
As crazy as it sounds, I am Legend has been gaining traction among conspiracy theorists. Even though a vaccine never actually figures into the movie's plot, it's been jumped upon by the anti-vaxx community.
A recent New York Times article on vaccine reluctance among employees of a Bronx optician even featured an anti-vaxxer who cited the movie as their reason for being wary of vaccination.
"One employee at Metro Optics Eyewear said she was concerned because she thought a vaccine had caused the characters in the film I Am Legend to turn into zombies," the NYT article reads. "People opposed to vaccines have circulated that claim about the movie's plot widely on social media. But the plague that turned people into zombies in the movie was caused by a genetically reprogrammed virus, not by a vaccine."
Similarly, a Washington Post article from May of this year saw the film cited by an anti-vaxxer.
"Simmons, a Democrat, told The Post that she had been haunted by a 2007 horror movie, I Am Legend, which starred actor Will Smith," reads the Post article. "That film depicts a botched cancer cure that kills most people and transforms the survivors into monsters — and Simmons said the image ran through her head last year as she heard about the rapid development of the coronavirus vaccines. 'I love that movie, for all kinds of reasons. But that was kind of scary. Don't want to be a zombie,' Simmons said."
The conspiracy began to circulate on social media late last year when the first successful vaccines were announced.
"Remember, in I Am Legend, the sickness didn't make the zombies. The vaccination did," reads a typical post on Facebook.
The conspiracy gained so much traction that news agency Reuters even debunked the claims in a fact-checking article last December.
"False," reads Reuters' conclusion. "The virus in I am Legend was a genetically engineered measles virus created to cure cancer, not a vaccination."
Last year the movie's star Will Smith joked that he felt partly responsible for COVID misinformation, having starred in the film.
"I made I Am Legend, so I feel responsible for a lot of the misinformation," he said during an appearance on Red Table Talk.
When a snippet of the New York Times article was shared on social media, it came to the attention of I am Legend's screenwriter Akiva Goldsman.
Responding on Twitter, Goldsman wrote "Oh. My. God. It's a movie. I made that up. It's. Not. Real."
We. Are. All. Going. To. Die.

Sooner. Than. We. Should. https://t.co/DqMKTkSxbr

— Marc Bernardin (@marcbernardin) August 9, 2021
Goldsman isn't the first filmmaker to respond to dismiss a wild conspiracy theory about their fictional works. Director John Carpenter's 1988 sci-fi action movie stars wrestler Roddy Piper as a homeless construction worker who uncovers a plot involving aliens inhabiting the body's of the upper classes. An ardent opponent of Ronald Reagan, Carpenter wrote the film as an allegory for Republicans and the 1980s obsession with consumerism. In recent years however the alt-right has begun to latch onto the film, believing the aliens are a stand-in for Jews.
"They Live is about yuppies and unrestrained capitalism," Carpenter wrote on Twitter upon hearing of the anti-semitic theory regarding his movie. "It has nothing to do with Jewish control of the world, which is slander and a lie."