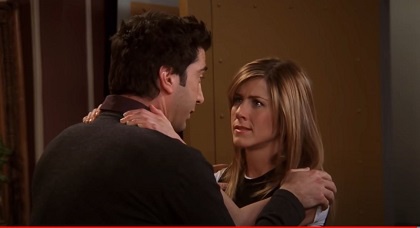 Friends stars David Schwimmer and Jennifer Aniston revealed during the airing of the reunion special that the pair actually were attracted to each other during the early days of the iconic sitcom in their respective roles of Ross Geller and Rachel Greene.
The cast from the sitcom reunited this week for a special reunion show, hosted by James Corden and featured several celebrities like David Beckham, Justin Bieber and Lady Gaga. The cast of Mathew Perry, Lisa Kudrow, Courteney Cox, Matt Le Blanc along with David Schwimmer and Jennifer Aniston made several revelations during the show.
One that would have certainly grabbed the auidence's attention was the revelation that Aniston who played Rachel and Schwimmer who portrayed Ross, actually had crushes on each other for real!
During the show, James Corden asked the cast, "It's inconceivable to me that there weren't, perhaps, offscreen romances".
To which Schwimmer replied, "The first season, I had a major crush on Jen,".
"We both reciprocated", Aniston added. Mathew Perry and Courteney Cox also said that they were aware of a spark between them.
Schwimmer said that the timing was never right for a relationship between the pair to happen.
"And I think, at some point, we were both crushing hard on each other, but it was like two ships passing because one of us was always in a relationship", Schwimmer said. "And we never crossed that boundary, you know? We respected that".
This moment of shock was broken when Matt Le Blanc weighed in with "B*******!". This was met with a chrous of laughter, before Le Blanc added, "I'm kidding!".
Jennifer Aniston recalled saying to Schwimmer during filming season one, "Honestly, I remember saying one time to David, 'It's going to be such a bummer if the first time you and I actually kiss is going to be on national television'".
"Sure enough, first time we kissed was in that coffee shop. We just channelled all of our adoration and love for each other into Ross and Rachel".
Aniston did add that the pair did used to cuddle on the couch sometimes.
"We would spoon and fall asleep on the couch,", she said.
Check out that clip from the reunion show below.
Also, check out some of Ross and Rachel's best moments from the sitcom itself!