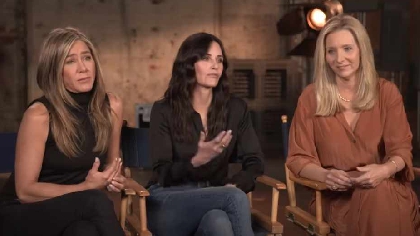 The girls from "Friends" have been asked who their favourite guest stars were on the show ahead of tomorrow's reunion.
Jennifer Aniston, Courtney Cox and Lisa Kudrow listed the likes of Ben Stiller, Sean Penn, Paul Rudd, Tom Selleck and Reese Witherspoon before Jennifer jumped in and said "Mr.Pitt was wonderful and fantastic".
Brad Pitt appeared on the show a year after they got married in 2001 as Ross' high school friend "Will" who has been holding a grudge against Rachel since school.