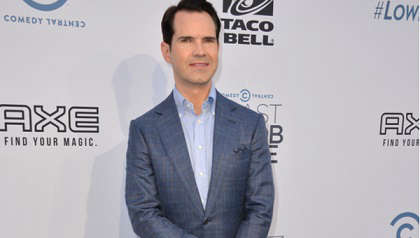 Jimmy Carr has broken his silence following the criticism he received over a joke he made relating to the genocide of gypsies in the Holocaust.
The comedian made this risqué joke over the genocide of gypises during his Dark Material's Netflix Special. Carr joked about the mass murder of Romani and Sinti people during World War II was a positive thing.
This joke received a sesimic backlash from several organisations, along with several household names including close friend and comic David Baddiel.
Baddiel called the joke, "cruel and inhumane and mean-spirited and racist".
Adding, "As a footnote, I'd add that Jimmy is a close friend of mine and a brilliant stand-up in general. Makes no difference to how I feel or think about this specific joke".
In light of the joke, The Traveller Movement took to Twitter to vent their disappointment.
"This is truly disturbing and goes way beyond humour. We need all your support in calling this out", they wrote.
My Big Fat Gypsy Wedding star Paddy Doherty also called for Carr to be "investigated by the police".
"That wasn't a joke. He's talking about mass murder being a positive – would he be allowed to say this about black people killed by the Ku Klux Klan?," Doherty added. "There's a level you don't go to. More than a million of my people were killed".
The murder of 500,000 Roma and Sinti people is no laughing matter @jimmycarr.

We are outraged and deeply distressed to see Jimmy Carr joking about the Roma Holocaust on @netflix. (1/2) pic.twitter.com/IKxWxu0I9r

— Friends, Families & Travellers (@GypsyTravellers) February 4, 2022
Olivia Marks-Woldman MBE who is the CEO of the Holocaust Memorial Day also added, "We are absolutely appalled at Jimmy Carr's comment about persecution... and horrified that gales of laughter followed his remarks".
"Hundreds of thousand of Roma and Sinti people suffered prejudice, slave labour, sterilisation and mass murder simply because of their identity - these are not experiences for mockery".
British MP Nadia Whittome confirmed that she had submitted a statement to Netflix, demanding that this segment of Carr's show be removed from the streaming service. While Prime Minister Boris Johnson branded the joke "deeply disturbing".
I have written urging Netflix to remove Jimmy Carr's vile anti-GRT and antisemitic material.

I have also requested an update from @DCMS on progress to bring streaming platforms under Ofcom regulation.

My full solidarity with GRT communities, today and always. pic.twitter.com/We6MRJVyjb

— Nadia Whittome MP (@NadiaWhittomeMP) February 4, 2022
"career ender"
In another gig at Whitley Bay Playhouse, Tyne & Wear, Jimmy responded to this flack, slamming "cancel culture" after the culture secretary called for a law supervising streaming services to be imposed.
After he was heckled by an audience member over his Holocaust joke, Carr said, "We are going to talk about cancel culture, the whole thing".
Later in the show, the 49 year old comedian addaed, "What I am saying on stage this evening is barely acceptable now. In ten years forget about it. You are going to be able to tell your grandchildren about seeing this show tonight. You will say, 'I saw a man and he stood on a stage and he made light of serious issues. We used to call them jokes and people would laugh".
Carr had previously introduced the joke on the Netflix special by calling it a possible "career ender".
The father of one continued to pull no punches, telling the audience at Whitley Bay Playhouse, "I am going to get cancelled, that's the bad news. The good news is I am going down swinging".
"The joke that ends my career it's already out there. It's on YouTube, Netflix, or whatever, and it's fine until one day it f***ing isn't".
Do you think he went too far?
I don't know what I should be more gutted or disgusted by here.. the kind of Racism that us GRT people are forced to live with every day.. that's it's still absolutely ok to demonise us & our demise as a joke…or the reactions of whooping & cheering from the audience.. pic.twitter.com/nZnJslasX2

— Mikey Walsh (@thatbloodyMikey) February 4, 2022