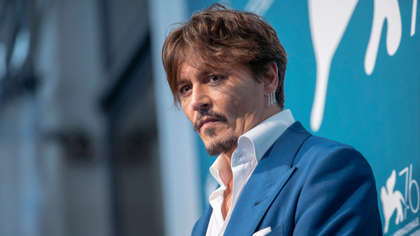 Johnny Depp believes he has become a pariah in Hollywood due to the accusations of domestic abuse of his ex-wife Amber Heard.
Speaking to The Sunday Times to promote the UK/ROI release of his latest film Minamata, Depp said his conflict with Heard and its resulting "unpleasant and messy situation" has "overshadowed" his career.
In Minamata, Depp plays W. Eugene Smith, the Life magazine photographer whose images highlighted the plight of the residents of the Japanese town of Minamata. In the early '70s Smith travelled to Japan and returned with images of locals bearing deformities caused by mercury poisoning. A local chemical company had been dumping mercury into the town's waters, resulting in children being born with physical defects, giving rise to what is now known as "Minamata disease."
Minamata opened this weekend in Irish and UK cinemas, with Depp's performance being hailed as his best in some time. In his native US, the movie still doesn't have a release date. Depp believes this is due to an unspoken boycott.
Speaking to The Sunday Times, Depp expressed his frustration that Americans wouldn't get to see what he considers an important film.
"Some films touch people," he said. "And this affects those in Minamata and people who experience similar things. And for anything … For Hollywood's boycott of, erm, me? One man, one actor in an unpleasant and messy situation, over the last number of years? But, you know, I'm moving towards where I need to go to make all that … To bring things to light."
Minamata's UK/ROI release was delayed due to the pandemic, but even with US cinemas back in business there are no firm plans to release it for American audiences.
In a statement released last month, MGM, which holds the US distribution rights, said that Minamata "continues to be among future releases and at this time, the film's US release date is to be announced."
Depp insisted that it wouldn't be his final film. He went on to thank his legions of fans for standing by him during his recent troubles.
"They have always been my employers," he said of his fans. "They are all our employers. They buy tickets, merchandise. They made all of those studios rich, but they forgot that a long time ago. I certainly haven't. I'm proud of these people, because of what they are trying to say, which is the truth. The truth they're trying to get out since it doesn't in more mainstream publications. It's a long road that sometimes gets clunky. Sometimes just plain stupid. But they stayed on the ride with me and it's for them I will fight. Always, to the end. Whatever it may be."
Last year Depp lost a libel case against The Sun newspaper. In a 2018 article, the paper portrayed him as a "wife-beater", a claim Depp strongly denies. The judge in the case ruled in favour of The Sun.
"Although he has proved the necessary elements of his cause of action in libel, the defendants have shown that what they published in the meaning which I have held the words to bear was substantially true," ruled Justice Nicol.
Depp subsequently filed a $50 million defamation case against Heard, which is set to go to trial in April, 2022.
Since then the once prolific actor's career has been at a standstill. Since completing Minamata he has no new acting roles lined up and was replaced by Mad Mikkelsen in the Fantastic Beasts series. Depp will be heard lending his voice to an upcoming animated series called Puffins, but when we will see his face on screen again remains to be seen.