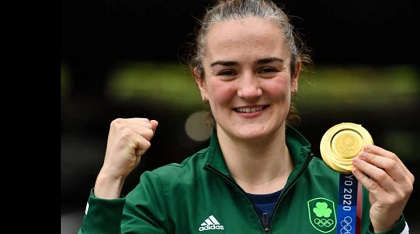 Kellie Harrington has said that she plans to get replicas for her gold medal made up, after revealing that the original has already been scratched.
"There's a bit of a scratch on it already. I don't know how it scratched", Harrington revealed. "I think you can get replica medals made so I might see if I can get a replica medal and bring that around with me".
Following her victory in Sunday's final over Brazil's Beatriz Ferreira, Harrington had admitted that she has not slept much since.
"I don't know what I feel right now. It hasn't hit me", she said.
"Don't know where I'm gonna put it"
Kellie also admitted that she is unsure as to what to do with her gold medal.
"But the gold medal, I don't know where I'm gonna put it. Probably with the rest of the medals just in the house somewhere, and if someone calls over I'll show it to them", she said. "That's where all the rest of the medals are".
Kellie Harrington's father Christy said that Portland Row is like "Christmas Eve" following his daugter's victory.
"It's like we are all waiting for Santa Claus! They're actually tracking Kellie's plane home. So, it's like Christmas Eve here for all of us. It really is powerful", he said.
'I have no tears left to cry' - Olympic champion Kellie Harrington arrived at Dublin Airport to an emotional reception.

The boxer said she is looking forward to going home for 'a cup of tea, a few biscuits and maybe a few donuts' | Live updates: https://t.co/QBdOEmYT7S pic.twitter.com/U3boxCjfv8

— RTÉ News (@rtenews) August 10, 2021
"absolutely incredible"
Kellie Harrington arrive back in Ireland with bronze medalist Aidan Walsh who was full of praise for the 31 year old Dubliner. He described her victory as "absolutely incredible".
"It was absolutely incredible to be able to witness that - an Olympic gold medalist is amazing", he said.
"She deserves every inch of it, she gives everything to the sport", he added.
"She's a top-class athlete and it showed the whole way through the Olympics".
'I feel extremely lucky to be standing here, the whole team deserve medals' - boxer Aidan Walsh was full of praise for his @TeamIreland teammates as he arrived back to Dublin Airport with an Olympic medal around his neck | Live updates: https://t.co/QBdOEmYT7S pic.twitter.com/KwsivFaAYL

— RTÉ News (@rtenews) August 10, 2021