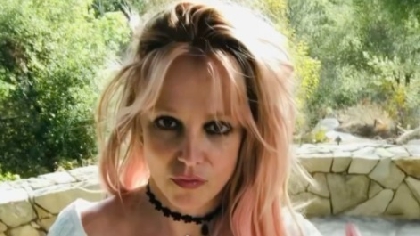 As anticipation grows for the first trailer of a new Britney Spears documentary titled Britney vs. Spears, the streaming service is giving fans a preview of what to expect.
Eager fans of Britney Spears are highly anticipating the documentary titled Britney vs. Spears and Netflix has fuelled that anticipation with a shneaky little teaser. Yesterday, the streaming giant released an 18 second clip, giving fans a preview of what to expect.
The short clip features what is reportedly an audio recording of Britney's voicemail to a lawyer on January 21st, 2009. "Hi, my name is Britney Spears," the speaker says. "I called you earlier. I'm calling again because I just wanted to make sure that during the process of eliminating the conservatorship…"
The audio cuts there and fans are left to wait for the full trailer, which will release tomorrow, September 22nd. The little snippet is enough to suggest that Britney was in fact attempting to get out of her conservatorship for more than a decade. As the singer's fans know, Britney's father, Jaimie Spears only submitted a petition to end the conservatorship.
Following Spears' hospitalisation in 2008 for psychiatric treatment, she was placed under the conservatorship, giving her father full control financial and medical affairs. The singer did gain back some control of her life in 2019, with her appointment of temporary co-conservator to manage such care. However, her father still remains a co-conservator of her estate.
Most recently, the 39-year-old mother of two was able to testify to her experiences under the court order. Within Spears' testimony, she claimed her father was "ruining" her life, resulting in the singer requesting he be removed as her conservator. Yet, Jaime has maintained that his actions have always been based on love and care.
His recent court filing stated: "As Mr. Spears has said again and again, all he wants is what is best for his daughter. If Ms. Spears wants to terminate the conservatorship and believes that she can handle her own life, Mr. Spears believes that she should get that chance."
Director Erin Lee Carr's Britney vs. Spears is among other documentaries which examine Britney's long legal battle. Toxic: Britney Spears' Battle for Freedom is expected to air on September 26th, although this will be shown on CNN. Another known documentary released in February, titled Framing Britney Spears, has been credited by the singer's fans as the one which kickstarted the helping to bring Britney's situation to a mass audience.
Britney vs Spears pic.twitter.com/vpGjzzSjd8

— Netflix (@netflix) September 21, 2021