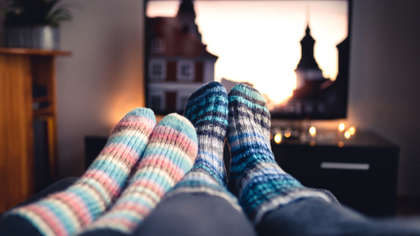 Here's your guide to the new movies arriving in Irish cinemas and on Home Entertainment platforms this week.
Ainbo: Spirit of the Amazon [Cinemas]
This children's animation comes from Peru and tells the story of a young girl trying to save her village in the Amazon. Aided by talking animals, Ainbo battles illegal miners, loggers and an ancient spirit that haunts the rainforest.
Candyman [Cinemas]
The 1992 horror classic gets revived for a new generation. Like 2018's Halloween, this one ignores all the previous sequels while recontextualising the events of the original film. The racial themes of the original are brought to the fore this time, though often in clunky fashion, and the titular terror is more sympathetic than scary.
Climate of the Hunter [VOD]
A throwback to the moody vampire thrillers of the 1970s with a decidedly retro vibe. The film sees a pair of sisters invite an enigmatic male friend for dinner. What they don't realise is that he's a vampire with a thirst for blood.
Demonic [VOD]
South African filmmaker Neill Blomkamp burst onto the scene with his 2009 sci-fi thriller District 9. Immediately courted by Hollywood, Blomkamp was gifted mega-budgets for movies like Elysium and Chappie. But with the latter flopping he's now been forced to return to the world of low budget filmmaking. Shot with limited means during last year's lockdown, Demonic sees a young woman enter the comatose mind of her serial killer mother, unleashing a malevolent demon in the process.
He's All That [Netflix]
Remember the 1999 teen comedy She's All That? Well it's been given the gender reversed remake treatment. Where the original saw a popular high schooler tasked with transforming a nerdy girl into the prom queen, this time it's a geeky boy who gets the makeover. Original star Rachael Leigh Cook pops up in the role of a Mum this time. Feeling old yet?
Mosquito State [Shudder]
A baffling piece of body horror from Polish filmmaker Filip Jan Rymsza. Set in the build-up to the 2008 financial crash, the film follows an autistic Wall Street data analyst whose lush apartment becomes home to a mosquito infestation. As his body morphs grotesquely from continuing mosquito attacks, he attempts to warn his employers of the impending disaster.
The Nest [Cinemas]
Filmmaker Sean Durkin made his acclaimed debut back in 2011 with Martha, Marcy, May, Marlene. It's taken him a full decade to make his second movie, but it's been worth the wait. Jude Law has never been better as a father who relocates his family to a sprawling country manor in the English countryside. There his relationship with his wife (Carrie Coon) disintegrates as he chases his career goals in the cut-throat world of 1980s stock-broking. Durkin films what is essentially a relationship drama as though he were making a horror movie, and it's truly unsettling.
Our Ladies [Cinemas]
Adapted from Alan Warner's novel The Sopranos, this Scottish drama follows a group of Catholic schoolgirls who run amok while on a trip to Edinburgh for a choir contest.
The Pebble and the Boy [Cinemas]
This love letter to Mod culture follows a young man as he rides his late father's scooter to Brighton to scatter his ashes. Rev up the Vespa and don your parka for this one.
The Toll [VOD]
Irish actor Michael Smiley plays a man hiding from his past while operating a remote toll booth on the border between Wales and England. When a young police officer develops suspicions, his criminal past catches up with him.
The Vault [Amazon Prime Video]
The Good Doctor himself Freddie Highmore plays an engineering genius recruited by a criminal gang to help them break into the Bank of Spain while the country is distracted by a World Cup match.