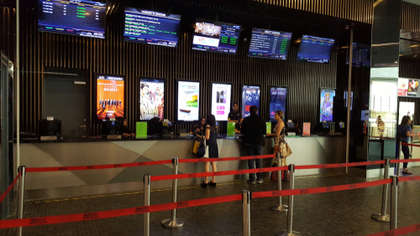 Here's your guide to the new movies opening in Irish cinemas and coming to Home Entertainment platforms this week.
A Perfect Plan [VOD]
A mysterious figure kidnaps four infamous criminals and forces them to commit a seemingly impossible diamond heist.

American Traitor [VOD]
This drama is based on the true story of Mildred Gillars. During WWII, Gillars became known as "Axis Sally" for broadcasting Nazi propaganda to American troops. Al Pacino plays the lawyer who defends her from charges of treason.

Beckett [Netflix]
John David Washington (son of Denzel) plays an American tourist who finds himself on the run when he is blamed for an accident while holidaying in Greece. Can he make it to the US embassy before the local police or the angry mobs catch him?

Bleed with Me [Shudder]
A troubled young woman accepts her work colleague's offer to stay in her family's remote cabin for the weekend. But once there she begins to suspect her buddy is poisoning her and drinking her blood at night.

Climate of the Hunter [VOD]
More bloodsucking as two sisters arrive at the remote home of an old acquaintance. What they don't know is that he's become a vampire since they last met.

Coda [Cinemas/Apple TV+]
This acclaimed drama focuses on Ruby, a teenage daughter of deaf parents who spends much of her time running the family business. When she joins her school's choir and is encouraged to pursue her passion for singing, she finds herself torn between her loyalty to her family and following her dreams.

The Courier [Cinemas]
The story of Greville Wynne (Benedict Cumberbatch), a British businessman who found himself playing a pivotal role in the Cold War when MI6 and the CIA recruited him to spy on his business contacts behind the Iron Curtain.

Don't Breathe 2 [Cinemas]
Stephen Lang returns as The Blind Man for this horror sequel. While he was the villain of the first movie, the sequel sees him take on a heroic role as he attempts to protect a young girl from the gang of criminals who want to kidnap her.

Free Guy [Cinemas]
Ryan Reynolds plays a video game character who becomes sentient and aware of his surrounding in this action comedy. When he discovers the game is set to be taken offline he attempts to save the world he's inhabited all his life.

I'm Your Man [Cinemas/Curzon Home Cinema]
In this German sci-fi drama, a scientist agrees to take part in an experiment. She must spend three weeks living with a human-like robot (Dan Stevens) designed to be the perfect man.

The Kissing Booth 3 [Netflix]
The popular Netflix teen rom-com series gets a third chapter. Series heroine Elle has finished high school and must choose between attending college with her best friend or her boyfriend.

Minamata [Cinemas]
Johnny Depp delivers his best performance in some time as W. Eugene Smith, the Life magazine photographer who exposed the crimes of a chemical company in the Japanese town of Minamata.
New Order [Cinemas]
In this harrowing Mexican thriller, the working classes rise up in violent fashion to overthrow the country's elites.
Paw Patrol: The Movie [Cinemas]
Kim Kardashian is among the voice cast for this big screen spinoff from the popular animated kids' TV show.
Wendy [Cinemas]
Yet another spin on the Peter Pan story. This one moves the action to the US state of Louisiana for a gritty take on CS Lewis's classic tale.
Wildland [Cinemas]
When a teenager's mother dies in a car accident, she is place in the care of her aunt, who just happens to be the matriarch of a dangerous crime family. A crackling thriller from Denmark.