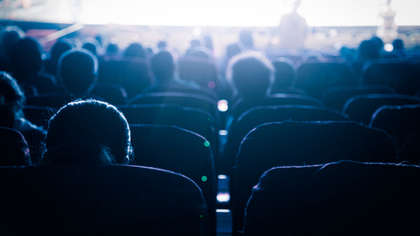 Here's your guide to the new movies opening in Irish cinemas and on home entertainment platforms this week.
Around the World in 80 Days [Cinemas]
Animated take on Jules Verne's classic story. In this version a marmoset attempts to travel around the globe after accepting a challenge from a frog.
The Bright Side [Cinemas]
This Irish drama is inspired by Anne Gildea's best-selling memoir 'I've Got Cancer, What's Your Excuse?'. Gemma-Leah Devereux plays a stand-up comedienne diagnosed with cancer. She finds inspiration in a group of fellow chemotherapy patients.
Censor [Cinemas]
It's back to the Video Nasties furore of the 1980s in this horror movie. Rising Irish star Niamh Algar is an uptight British censor who becomes obsessed with the idea that a gory horror movie is somehow connected to the childhood disappearance of her younger sister.
Jakob's Wife [Shudder]
Horror icon Barbara Crampton plays a suburban preacher's wife who has grown bored with her dull existence. She gets a new lease of life when she's bitten by a vampire and becomes a bloodthirsty creature of the night herself.
The Night House [Cinemas]
Rebecca Hall is a woman struggling to cope with the loss of her late husband. While taking a break in a remote lake house she begins to experience nightmarish supernatural visions that suggest her hubby had a dark side.
People Just Do Nothing: Big in Japan [Cinemas]
The BBC comedy series gets a big screen spinoff. The Kurupt FM crew travel to Japan when one of their songs becomes a surprise hit in the country.
Pig [Cinemas]
Nicolas Cage continues to pick uniquely interesting roles. Here he plays a reclusive former chef living in the woods outside Portland, Oregon. When his truffle-hunting pig is stolen, he heads into the city to find those responsible. What initially seems a revenge thriller becomes a surprisingly soulful rumination on the nature of happiness.
Red Soil [VOD]
In this environmental drama from Belgium a nurse takes a job at the power plant where her father has worked for decades. There she stumbles across a toxic waste dumping cover-up involving the local government.
Reminiscence [Cinemas]
Westworld writer/director Lisa Joy makes her feature film debut with this sci-fi thriller. Hugh Jackman is a private eye with the ability to access his clients' memories. When one particularly alluring client (Rebecca Ferguson) disappears, he sets out to track her down.
Sabaya [Cinemas]
This documentary follows a group who perform the life-threatening task of freeing female sex slaves from the grip of ISIS. Given recent events in Afghanistan, it's a timely release.
Snake Eyes: GI Joe Origins [Cinemas]
GI Joe (or as we know it in Ireland, "Action Man") character Snake Eyes gets his own spinoff movie. Henry Golding plays the stealthy ninja in a tale that explores his origins. When he saves the life of a Japanese warrior, Snake Eyes is accepted into their clan and trained in their ways.
Sweet Girl [Netflix]
Aquaman and Game of Thrones star Jason Momoa flexes his muscles once again in this action thriller. He plays a father attempting to keep his daughter safe while seeking revenge against the men responsible for his wife's death.
Underground [VOD]
This French-Canadian drama follows a young miner as he attempts to redeem himself in the months following a car crash caused by his drunk driving. With his best friend left physically and mentally disabled, he seizes the opportunity for salvation when his father becomes trapped in the mine and he joins the rescue operation.