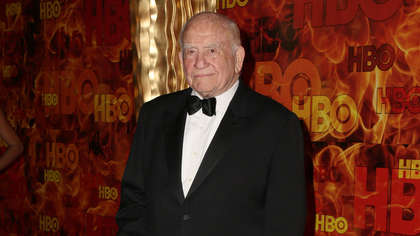 Best known as TV's Lou Grant and for voicing Pixar's Up, actor Ed Asner has passed away at the age of 91.
Writing on the actor's official Twitter account, Asner's children broke the news of their father's death. "We are sorry to say that our beloved patriarch passed away this morning peacefully," they wrote. "Words cannot express the sadness we feel. With a kiss on your head- Goodnight dad. We love you."
We are sorry to say that our beloved patriarch passed away this morning peacefully. Words cannot express the sadness we feel. With a kiss on your head- Goodnight dad. We love you.

— Ed Asner (@TheOnlyEdAsner) August 29, 2021
Asner was born to Eastern European immigrant parents in Kansas City on November 15th, 1929. As a teenager he was unsure of a career, having dropped out of both journalism and drama schools to work a variety of jobs before he was drafted into the military in 1951.
It was during his two years of military service that Asner caught the acting bug, performing in plays for the entertainment of service personnel.
Following his service he became one of the founders of Chicago's Playwrights Theatre Company before departing for New York. On Broadway, Asner found himself appearing alongside Jack Lemmon in a 1960 production of Face of a Hero.
Asner's Broadway work caught the eye of TV casting agents, and throughout the 1960s he became one of the most recognisable guest stars on US TV. With his burly frame and gruff demeanour, Asner often found himself playing a variety of "villains of the week." Among his '60s TV credits are appearances on The Outer Limits, The Man from UNCLE, The Fugitive and Mission: Impossible.
In 1962 Asner made his big screen debut in the Elvis movie Kid Galahad. He would later work with Elvis once more in 1969's Change of Habit. It was while working on Change of Habit that Asner met Mary Tyler Moore. A year later he was cast as news director Lou Grant on The Mary Tyler Moore Show.
The character was so popular that when the Mary Tyler Moore show ended he was given his own self-titled spinoff in 1977. While The Mary Tyler Show was a half hour sitcom, Lou Grant was an hour long drama that often explored social themes. The role saw Asner become the first actor to win Emmy awards for the same role in both sitcom and drama categories. Asner reprised the role for guest spots on sitcoms Rhoda and Roseanne.
Asner was awarded further Emmys for his roles in slavery drama Roots and the 1976 mini-series Rich Man, Poor Man.
In the 1980s and '90s, onscreen roles began to dry up for Asner, who turned his talents to voice acting. His role as gruff editor J. Jonah Jameson on the '90s Spider-Man animated series saw him draw on his Lou Grant character.
In 2009, Asner's career received a major boost when he was cast as the voice of the lead character of Pixar's Up. The role saw him voice an elderly man coping with the recent loss of his wife. Asner's voice work was so acclaimed that many critics suggested that the Oscars should invent a new category for voice acting to reward his performance.
Offscreen, Asner was known for his political activism and vocal support of causes. While serving as president of the Screen Actors Guild he criticised US intervention in Central America. He was an advocate for introducing free healthcare to the US. Asner served on the board of an organisation tat aided elderly Holocaust survivors in Eastern Europe. When Lou Grant was cancelled in 1982, Asner surmised that his show had been taken off the air due to his left-wing politics.
Asner passed away at his home in Los Angeles on August 29th. He was 91.