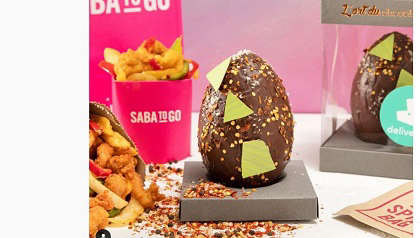 Something to ponder over the Easter weekend. You can get your hands on a spice bag in the form of an Easter egg.
It was confirmed that L'Art Du Chocolat have teamed up with Saba To Go and Deliveroo to create this spice bag Easter Egg, with the Saba To Go website stating that the egg "is made of Tropelia Noire – a decadently rich chocolate with a rounded flavour profile that has savoury notes – and hand rolled in fiery chillies".
The egg itself is also available exclusively to Saba customers ordering through Deliveroo.
They also said that the egg is also "encrusted with salt crystals" and "mounted on a spicy ganache evocative of spice bag flavouring".
Zingy lime shards are also on the outside of the egg, representing "fresh notes" in a spice bag.
The egg is only available to Dublin stores at the moment.