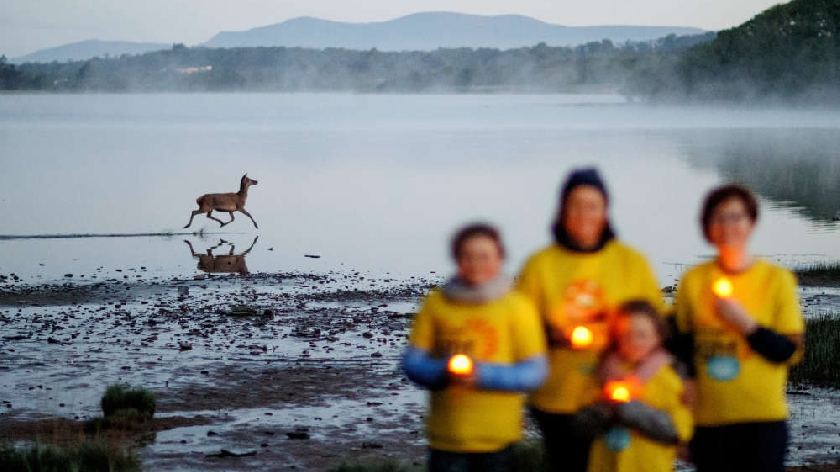 Thousands show out for Darkness into Light this morning.
Thousands show out for Darkness into Light this morning.
Hundreds of events took place around Ireland and the world to mark Darkness into Light.
Pieta estimates 100-thousand people have taken part in 230 events around the globe, including in New Zealand and Canada.
The symbolic 5km walk in aid of Pieta House promotes suicide prevention and looks to tackle the stigma associated with mental health.
Emotions were on high at dawn this morning as hundreds of thousands of people walked and swam all over Ireland.
It's the first time events have been held since the pandemic.
One of the big names to show out for the walk was former RTE presenter Charlie Bird.
Charlie, along with his wife Claire and their dog Tiger, walked on Bray Seafront with over 2,000 other participants.
He spoke to the crowd at the event saying: "The Darkness into Light walk is a powerful show of support for everyone who is in a dark place and I applaud the work of Pieta. And while I have my own struggles I am going to continue to extend the hand of friendship."
Bird says his motor neurone disease is getting 'progressively worse'.
It comes five weeks after he climbed Croagh Patrick in Co Mayo, in aid of the MND Association and Pieta.
The 'Climb with Charlie' project has raised 2.5 million euro for the two charities. He believes that will reach 3 million next month.
The Darkness into Light walk started in 2009 as a small event featuring 400 participants in the Phoenix Park in Dublin, and has since grown massively.
The event is celebrated in 80 venues in Ireland and abroad. It is the primary fundraiser for Pieta.
The suicide and self harm prevention charity says its crisis helpline received 40 percent more calls and texts last year compared with 2020.
The free phone number 1800 247 247 is available 24 hours a day.