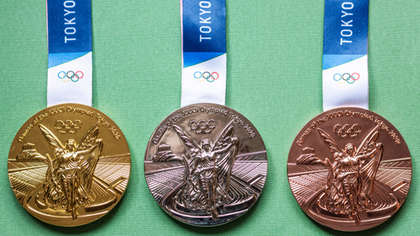 Ireland has won its first medal at this year's Olympics, with two Galway rowers involved.
Ireland's Women's Four rowing team collected bronze in the rowing finals on Thursday morning Irish time.
The team includes two Galway natives – Aifric Keogh of Furbo and Fiona Murtagh of Moycullen.
Along with their teammates Eimear Lambe and Emily Hegarty, Keogh and Murtagh finished the race in third place with a time of 06:20.46.
The Irish quartet was up against teams from from Great Britain, Australia, Netherlands, China and Poland.
At the halfway mark they were in fifth place but managed to pass both China and Great Britain to ultimately take third place.
The team makes history as the first female rowers to win a medal for Ireland.
Keogh said the team's self-belief carried them through.
The team was congratulated by Presidnet Michael D. Higgins, who wrote on Twitter "My congratulations to Aifric Keogh, Eimear Lambe, Fiona Murtagh and Emily Hegarty as they win Ireland's first medal at Tokyo 2020, claiming a well-deserved bronze medal in the women's four."
"My congratulations to Aifric Keogh, Eimear Lambe, Fiona Murtagh and Emily Hegarty as they win Ireland's first medal at #Tokyo2020, claiming a well-deserved bronze medal in the women's four."@TeamIreland @RowingIreland

— President of Ireland (@PresidentIRL) July 28, 2021
Our Olympic Medalists!

First female athletes to win an Olympic Medal in rowing for Ireland 🥉🥉🥉🥉

History has been made by this incredible crew 👏👏#wearerowingireland pic.twitter.com/QIsVMX09jE

— Rowing Ireland (@RowingIreland) July 28, 2021