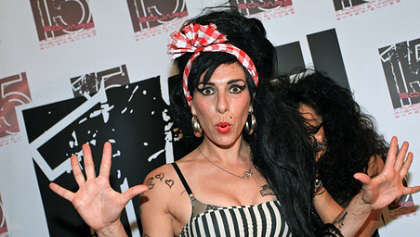 Amy Winehouse's goddaughter Dionne Bromfield has revealed the heartbreaking final few moments she had with her.
Dionne was just 15 years old when Amy Winehouse passed away in 2011. She revealed that she was left devastated by her death.
Speaking to the StoryCast'21 Podcast from Sky News, Dionne spoke about the final few moments she had with her godmother. In fact, Dionne who is also pursuing a career in music, shared the stage with Amy during her final live performance before her death.
"She came out for Mama Said, which was one of her favourite songs of mine, and she had a little dance, a little bit of backing vocals and then walked off", Dionne said.
She also added, "To me, it didn't feel like something that was on the cards. She was really full of life that night. So, yeah, it was not a person who had given up on life".
"Didn't really make sense in my head"
Dionne also spoke about the awful moment when she was told about Amy's death.
"I remember going, okay, and carried on doing what I was doing, it didn't really make sense in my head. It didn't register. And I just kept on getting dressed to go and do my gig", she said. "It was more like, I literally saw her three days earlier and she was so positive she was glowing and everything. How are we going from this, to this?".
Dionne also spoke about how much Amy meant to her.
"I kind of looked at her as a mother and a big sister… Aunty Amy, I mean, she loved it when I called her that", she explained.
"She just had a really, really close bond with me from a young age. My mum noticed that, and Amy really wanted to kind of take me under her wing musically and just on a personal level. Amy was, like, made to be an amazing mum and an amazing wife. That was like her thing and her purpose for life".
"She loved to cook. She cooked meatballs all the time. They weren't the best…", she joked.
"She was a really simple girl. And it's just everything around her was amplified and massive and big. So, yeah, the Amy I know is a loving, caring, funny and an extremely talented person. All the other stuff is just noise".
Amy Winehouse also signed Dionne to her record label. She also performed backing vocals to some of her tracks.
The day is nearly here for you to see what I've been working on over the past couple of months. This is a project that is very close to my heart and I can't wait for you all to see it 💕@MTVUK @MTV pic.twitter.com/FUpji0lHvK

— Dionne Bromfield (@DionneOfficial) July 22, 2021