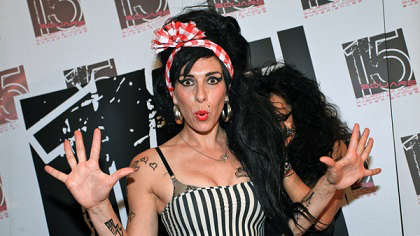 An auction of most than 800 of Amy Winehouse's dresses, shoes, jewellery and accessories that she wore on stage, in photo shoots and at various public events brought in $4 million over the weekend, Julien's Auctions said Sunday.
An auction of Amy Winehouse' personal belongings fetched around $4million over the weekend, Julien's Auctions revealed yesterday. Items included shoes, jewellery, accessories worn on stage, in photo shoots and at various public events, and more than 800 dresses worn by the late star.
The highest earning item at the event came in the form of a dress from Amy's final stage performance in her 2011 Belgrade Summer Festival Tour. Selling for 16 times Julien's original estimate of $15,000, the dress reached an astonishing $243,200 (just under €210,000).
The dress is described as a "custom-made figure-hugging halter mini dress designed by Winehouse's designer and stylist, Naomi Parry, [which] has a bamboo and floral print on silk incorporated into a Spanx dress."
Not far off in second spot was the Moschino custom-made red leather heart-shaped purse used by Winehouse at the 2007 Brit Awards. Selling for $204,800 (€177,000), the purse scored 13 times its original estimate of $15,000.
Also on auction was a floral gold lamé D&G stage-worn dress for $150,000 (€129.5k) - a Temperley London tan and black jumpsuit worn at a 2008 Sunday Times portrait shoot – and a skirt for $11,250 (€9,7k). A Christian Louboutin tan peep toe heels worn to her father's 60th birthday party sold for $38,400 (€33.1k).
Winehouse tragically died on July 23rd, 2011, at the young age of 27 through accidental alcohol poisoning. Proceeds raised at auction will benefit the Amy Winehouse Foundation, established by her parents, Mitch and Janis Winehouse, to raise awareness and support for young adults with addiction problems.
Some items sold this weekend will head to the "Amy: Beyond the Stage" exhibition at the Design Museum in London beginning November 26th, before going to the winning bidders after the exhibition.