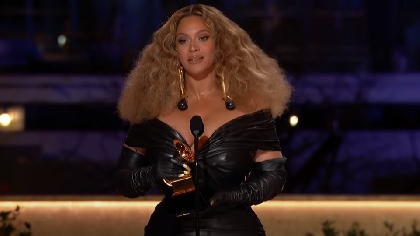 Beyonce's 'Formation' video has been named the best music video of all time by Rolling Stone.
The accolade comes in honor of MTV's 40th anniversary as Rolling Stone magazine compiled a list of what they considered to be the 100 greatest music videos, with 'Formation' claiming the top spot.
The video, directed by Melina Matsoukas, surprised Queen Bey fans, dropping the day before the pop icon was set to perform at the Super Bowl 50 halftime show. Both the performance and the video delivered powerful messages about Black Culture, addressing police burtality, and calling back to the singer's Creole roots.
The video sparked backlash from conservative viewers and politicians, who suggests that the song spread anti-police messaging.
Regardless, 'Formation' was able to earn Beyonce six wins at the MTV Video Music Awards as well as the Best Music Video award at the 2017 Grammys.
"In under five minutes, Beyoncé moves from a plantation-style house where the Black denizens are the masters not the slaves to the top of a sinking police car," Rolling Stone wrote. "If Beyoncé's self-titled visual album established her as one of the greatest artists of all time, her surprise-released 'Formation' video (and ensuing album Lemonade) marked her as one of the most important."