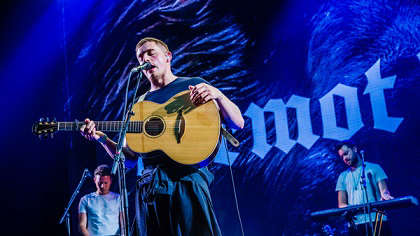 Global star Dermot Kennedy today announces two nights at Dublin's 3Arena on December 13th and 14th, with all profits going to the Pieta and Focus Ireland charities.
Earlier today, Dublin musician Dermot Kennedy announced that he will be playing two special gigs at the 3Arena next month. The Paradise singer will play on the 13th and 14th of December, with all profits going to the Pieta and Focus Ireland charities.
The singer said he is "so grateful to be playing two shows in Dublin this December in aid of Pieta and Focus Ireland, two incredible charities. Suicide and homelessness are two issues that are sadly so prevalent in Ireland today.
"There are so many people that badly need our help, especially at this time of year. Please think of them and let's come together and raise as much money as we can for these extremely important causes."
Kennedy has had a very prosperous 2021 thus far, reaching new hights with massive hits like Better Days, pushing Dermot to another Top 20 single in the UK and Top 5 in Ireland. With record-breaking sell-out shows in London and Colorado, things just keep getting better and better for the Maynooth graduate.
The Dublin native has transformed into a global star from the huge success of his 2019, # 1 selling debut album, Without Fear. Dermot has also skyrocketed to the tune of nearly three billion streams globally, and over 15 million monthly listeners on Spotify.
Over the past 18 months, alongside writing the follow up Without Fear, Dermot performed live with Meduza on The Ellen Show. The singer also performed a fantastic live streamed show at The Natural History Museum in London, and recorded a pre-show performance for U2's The Virtual Road series on St. Patrick's Day.
Tickets for the upcoming December shows at 3Arena go on sale Friday November 19th at 9am and available from Ticketmaster outlets and ticketmaster.ie.