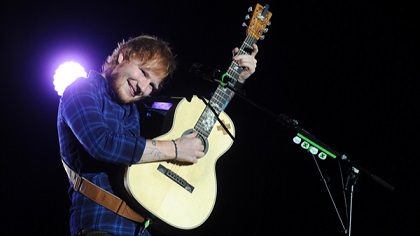 Ed Sheeran and Elton John have teamed up to bring fans brand new Christmas music this holiday season.
On Monday (November 29) the duo continued their Christmas crusade by teasing the upcoming release of their duet 'Merry Christmas'. Alongside the announcement for the track the duo also posted to Instagram to let fans know that all U.K. profits from their three upcoming holiday tracks will go directly to the Ed Sheeran Suffolk Music Foundation and the Elton John AIDS Foundation.
In the pairs' Instagram post Sheeran pulls off an impressive spoof of Love Actually, playing off of Andrew Lincoln's famous scene where he professes his love to Keira Knightley's character via the medium of romantic cue cards. However, instead of declarations of love, the cue cards in Sheeran's hands announced his and John's "Merry Christmas".
The post also featured a short snippet of the song where the pair can be heard singing "Filled up with so much love/ All our family and friends are together where we all belong/ Merry Christmas, everyone." They captioned the post "This was an absolute blast! Our music video for 'Merry Christmas' is coming this Friday".
In a recent interview with Jimmy Fallon on The Tonight Show, Sheeran revealed that Elton John had first pitched the idea of collaborating on Christmas music while they worked together on John's recent collaborative album The Lockdown Sessions.
"I've always been quite against it," Sheeran recalled. "Not that I don't like Christmas, I love Christmas, but in terms of doing a Christmas song, you need to chuck the kitchen sink at it."