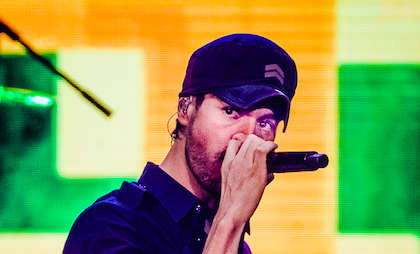 Enrique Iglesias shared an adorable video on Instagram on Friday of his 19-month-old daughter Mary, dancing to her father's new music. The clip shows the singer, 46, playing his new album Final on a tablet while his daughter smiled and bounced along to the music.
"FINAL (Vol.1) is out!!!!!! Gracias a todos mis fans por vuestro apoyo [Thank you to my incredible fans for all your love] 🙏🙏🙏🙏🙏 #Finalalbum," he captioned the post.
In a March 2020 interview with PEOPLE, Iglesias said that his older twin children - Lucy and Nicholas, 3 1/2 - had transitioned "very smoothly" into the role of being older siblings to Mary (aka Masha). Iglesias shares his three children with wife Anna Kournikova.
"There's a two-year difference, so I was a little scared. I was like, 'How are they going to react?' And I have two dogs so my house is chaotic," he said at the time. "When we first came home with Masha, I was like, 'Oh, how is everybody going to react?' "
During a recent promotional event with Ricky Martin and Sebastian Yatra, Iglesias revealed that Final might be his final project.
"It might be my final album," Iglesias said. "It's not something that I have been thinking about for the past few months. It's something that I have been thinking about for the past few years."
"There's going to be Vol. 1 and Vol. 2, but they're final," Iglesias continued. "I'm in that moment in my life, that chapter in my life, where I think it's the right time to put it out and I've been thinking about this since 2015."