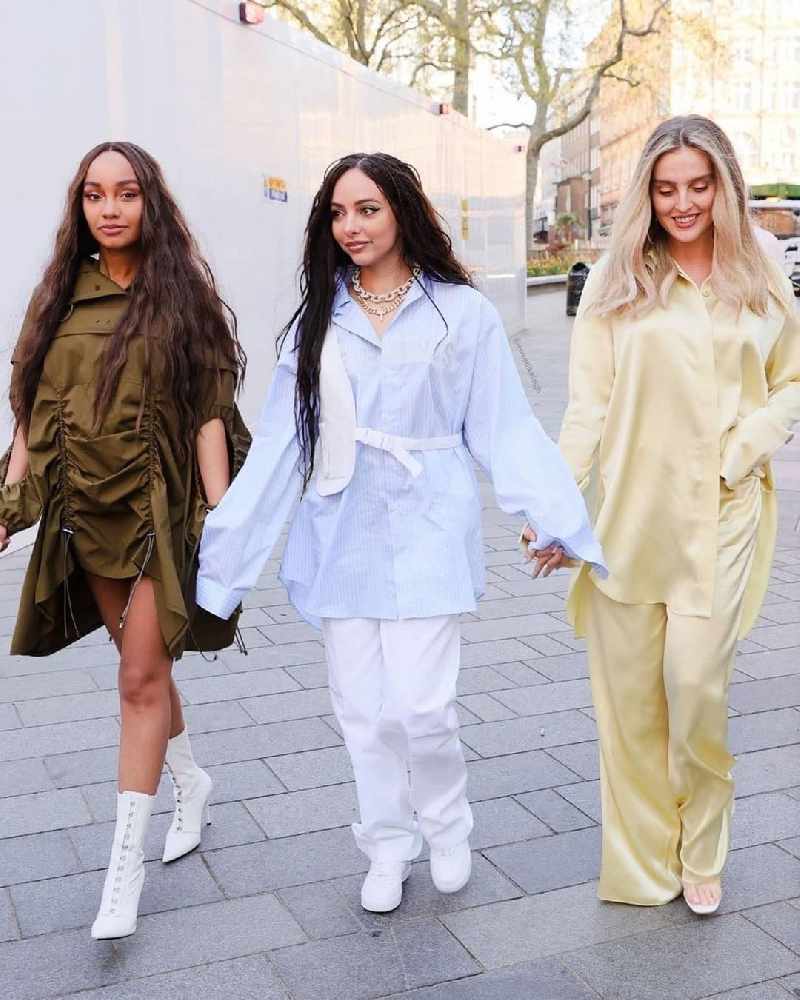 In preparation for the release of Little Mix's new album "Between Us", Jade Thirlwall sat down with Apple Music 1's Rebecca Judd.
Thrilwall reflected on the band's ten-year anniversary and revealed that fellow Little Mix bandmates Leigh-Anne and Perrie are "raring to get back" to the studio to make even more new music.
When discussing the band's new album, Thirlwall had this to say: "Yeah, it definitely feels a bit different. I think because obviously, yeah, a lot of the hits are on there as well as new songs as well. But I think we have got so used to that pop band cycle where every year you churn out an album, you spent ages working on it, writing it, recording it. So this one was obviously a little bit easier. It was like, right, throw that one on, that's a hit, throw that on. So there's five tracks, we did do a lot of writing for it. But yeah, I think obviously this year as well, both the girls have had babies. So it was more about finding the best way to celebrate the decade together and getting new stuff as well for the fans."
Thrill added that her bandmates are chomping at the bit to get back to performing and touring: "They're actually raring to get back as well to be honest, we message every day, call each other just about every day. And I think they're getting major FOMO seeing me out and about doing bits. Yeah.
"I mean, now was a good time I think for the girls to settle down, have their babies and stuff. I think in lockdown, everyone had a bit of a perspective shift, didn't they? Of when was the right time to do what they truly wanted. But that doesn't mean they can't still slay," she added.
When asked where she though Little Mix might be in another ten years, the singer said: "10 years time. I don't know. Well, obviously, I think that Little Mix will still be around. We're always going to have each other. I think when you've got that sort of bond ... I've spent my whole adult life with the girls and that'll probably never, ever change, no matter what happens. Until now and then, maybe I'd like to see more girl bands come through and I'd like to help with that as well. So yeah, hopefully in 10 years time, there'll be another big Little Mix to share the spotlight with. Maybe I'll settle down. I haven't got any intentions here. I like traveling around too much. Yeah, I had a couple of weeks off actually. Me and my boyfriend just got a dog and he lives in Margate and I was there and I was like, "I do get it." I do love that more simple, lovely life. You get up every day, you walk the dogs, and you go out to the beach. And I love that, but I'm definitely not ready to give it all up anytime soon."
Thrilwall closed the interview by discussing her excitement about returning to live shows after the pandemic: "It's been two years now since we've done a big show. So I think I'll be a bit nervous and I haven't really let myself go, but I'll always joke to Jordan [Stephens], he met me after lockdown and I don't really exercise. I eat what I want. It's all very that, and he's super healthy and I'm like, "You don't know what I used to be like. I was very fit and healthy," and he's like, "All right." And now I feel like I've put pressure on myself when I do start this tour to prove a point to Jordan that I actually am capable of lasting out an hour and a half sure and not passing out."