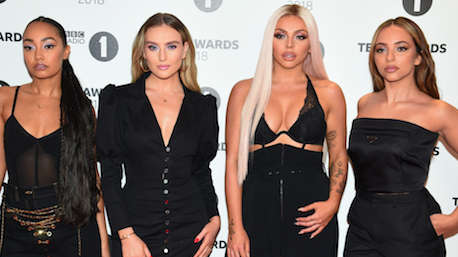 Little Mix have taken to social media after former bandmate Jesy Nelson's controversial debut single and music video to address the issue of "blackfishing".
Leigh-Anne Pinnock, Jade Thirlwall, and Perrie Edwards of Little Mix addressed the issue after Nelson dropped 'Boyz', reportedly following previous warnings from Pinnock about how white people attempting to steal or appropriate black looks and culture is offensive.
In a recent interview with the Telegraph's Stella Magazine, the band reported that they wouldn't be going into detail about their disagreements with Nelson, nor the circumstances that led to her leaving the band.
When asked about criticisms relating to Nelson's alleged blackfishing, however, Pinnock said:"Capitalising on aspects of blackness without having to endure the daily realities of the black experience is problematic and harmful to people of colour.
"We think it's absolutely not okay to use harmful stereotypes. There's so much to say on that subject that it's hard to sum up in a soundbite."
"We don't really want to dwell, because we have so much to celebrate as a three," Thirlwall said. "We've dealt with it in the best way that we know how, and got each other through it.
"We don't want to talk about the video, or be critical, but one thing we will clarify regarding the blackfishing situation is that Jesy was approached by the group in a very friendly, educational manner."
According to Stella, the conversation between Little Mix and Nelson concerning blackfishing took place before Nelson left the group in 2020.
In a promotional video for 'Boyz' released in October via Instagram Live, Nelson addressed criticisms saying that it was never her intention to cause harm or offense and that she wanted to celebrate the music she grew up with.
After the release of her new music video, Nelson added: "I personally want to say that my intention was never, ever to offend people of colour with this video and my song because like I said, growing up as a young girl, this is the music that I listened to.
"These are the videos that I watched and thought were the best. For me personally, '90s/2000 hip-hop, R&B music, was the best era of music.
When she appeared on the Graham Norton Show last Friday (October the singer reported that she is no longer in contact with her former Little Mix bandmates.
"It is sad but honestly there is no bad blood from my side, and I still love them to pieces and genuinely wish them all the best," she said.
"I loved my time with them, and we've got the most incredible memories together, but it's just one of those things which needs to take time, so who knows.
"To me they are still the sickest girl band in the world."