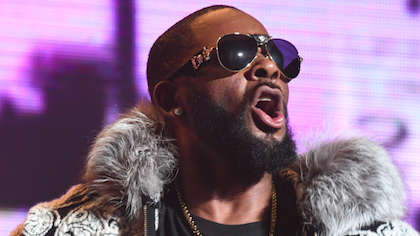 The first of R Kelly's many accusers has just testified against the R&B singer in a Brooklyn, New York court.
Jerhonda Pace is the first of several women and at least one man expected to testify against R Kelly in the coming weeks, with some of their allegations dating back nearly two decades.
Pace was the first to bring allegations of sexual abuse against Kelly, telling courts on Wednesday (August 18) that the singer assaulted her when she was a 16 year old member of an R Kelly fan club.
Wednesday's hearing began with opening statements from both the prosecution and the defense. Assistant US Attorney Maria Cruz Melendez described Kelly as a "predator", saying he used his fame to get "access to girls, boys, and young women." Kelly's defense lawyer Nicole Blank Becker countered saying that his accusers had been "consenting" and enjoyed "the notoriety of being able to tell their friends that they were with a superstar".
In 2019 Pace (28) was one of several women to appear in the docuseries: Surviving R Kelly.
Pace's testimony alleged that she had been invited to Kelly's mansion in 2010 and promptly ordered to take off her clothes. She also alleged that Kelly knew she was only 16 at the time, claiming to have shown the singer identification.
"He asked me to continue to tell everyone I was 19 and act like I was 21," Pace told the court. When she revealed to Kelly that she was a virgin, the singer was allegedly pleased, saying he wanted to "train her" sexually.
According to Pace, she and Kelly met for another six months, though the singer became more controlling and violent. She recalled a time when "he slapped me and choked me until I passed out". Afterwards Pace claims Kelly spat on her and forced her to engage in oral sex.
Prosecutors attempted to corroborate Pace's claims by presenting a t-shirt from the episode in question that provided DNA evidence of misconduct.
The three-time Grammy winner has denied any wrongdoing, pleading not guilty to charges of racketeering, sexual abuse, and bribery.
Melendez opened the case for the prosecution, telling the jury that Kelly abused his influence to lure in his alleged victims and that he "dominated and controlled them physically, sexually and psychologically".
"This case is not about a celebrity who likes to party a lot," Ms Melendez said. "This case is about a predator."
She described the singer as "a man who used lies, manipulation, threats and physical abuse to dominate his victims and to avoid accountability for years".
Blank Becker countered for the defense saying that Kelly did not "recruit" his accusers. "They were fans. They came to Mr Kelly," she added.
"They knew exactly what they were getting into," she said, adding that "it was no secret Mr Kelly had multiple girlfriends. He was quite transparent".
Kelly's trial in New York comes after over a decade of accusations against the singer. In 2008 he face child pornography charges in an Illinois court, but was alter acquitted.