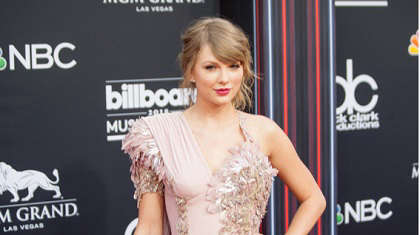 Taylor Swift featured as the latest musical guest on the hit sketch-comedy series Saturday Night Live this weekend.
In addition to performing her new 10-minute version of her song 'All Too Well' from her re-recorded 'Red: Taylor's Version' album, the singer-songwriter also performed alongside Pete Davidson in a sketch about 'three sad virgins'.
Together Swift and Davidson musically roasted the Please Don't Destroy comedy trio featuring John Higgins, Ben Marshall, and Martin Herlihy with a parody song titled 'Three Sad Virgins'
Swift's part in the song includes her calling one of the comedians a "sad Ron Weasley" who looks like a "Big Bird who lost all his feathers." In reference to another comedian Swift suggests that he has "the sex appeal of a scarecrow".
She sang: "Because they're three sad virgins, what/ Three sad virgins, woah. And they're going to die alone."
Following her performance in the sketch, Swift performed her new extended version of 'All Too Well' while a short film accompanying the track played in the background. The short film featured Stranger Thing's Sadie Sink and Maze Runner's Dylan O'Brien.
Swift premiered the film alongside the song's first live performance in New York ahead of her SNL appearance.
The pop star praised her fan's for giving 'All Too Well' new life, citing fan support as "the most important thing about this particular project".
NME gave Swift's re-recorded album a rating of four-out-of-five stars, saying: "It's not an exercise of rethinking and tweaking old songs, but to take back ownership of her own music. The production here is a little sharper, with the instrumentation being brought further into focus."