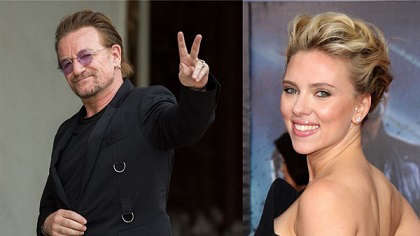 Listen to Scarlett Johansson and Bono duet on 'I Still Haven't Found What I'm Looking For' below.
Heart-warming collaborations never get old so, thankfully, we are treated to a new one this year in the form of Bono and Johansson. The U2 frontman and megastar actress, Scarlett, team up together to deliver all of the feels with an adorable duet.
The pair has teamed up for the sequel to Sing, which sees the U2 frontman make his animated film debut as reclusive rock lion, Clay Calloway. Fans of the franchise will be familiar with Buster Moon (Matthew McConnaughey), Rosita (Reese Witherspoon), Ash (Scarlett Johannson), and the rest of the singing animals determined to make it in showbiz.
Recently, a new trailer has dropped for the upcoming animated film, Sing 2, featuring Johansson covering U2's 1987 classic, I Still Haven't Found What I'm Looking For. Singing most of the song as her spiky character, Ash, Johansson is later joined by lion rock legend, Clay (Bono) Calloway.
Earlier in the week, U2 released a new original track, 'Your Song Saved My Life', which is also set to feature on the Sing 2 soundtrack. Stuck In A Moment You Can't Get Out Of and, Where The Streets Have No Name are also set to feature on the soundtrack – available to pre-order here.
Bono plays an artist "who shut himself away from the world more than a decade ago after the loss of his wife and hasn't been seen since." The film's protagonist, Buster - voiced by Matthew McConaughey - embarks on a quest to find Clay and "persuade him to return to the stage". Pharrell Williams and Halsey are also set to lend their voices to the upcoming, family film.
Listen to Scarlett Johansson covering 'I Still Haven't Found What I'm Looking For' below: