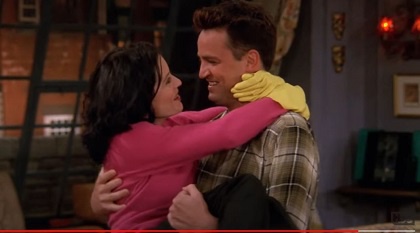 In the Sitcom Friends, Monica & Chandler got married and as seen in the final episode of the show in 2004, they adopted two children. However, many fans of the show would have been shocked to discover that that the people who played the characters Mathew Perry and Courteney Cox are related in real life!!
According to the website MyHeritage, the pair are actually distant cousins, 11th cousins to be precise, sharing members English couple Ellen Haskell and William Osbern Haskell III. The couple got married in England around 500 years ago.
In 1635, Ellen subsequently emigrated to America with her sons William and Roger, which explains the Friends pair.
Experts who work with the website have said that Roger is a direct ancestor to Courteney, while William is a direct ancestor to Mathew.
It would also appear that Lady Gaga who appeared on the reunion show for Friends, is also releated to the duo.
"A lot of records"
"We went into this line very deeply, we checked every name", said Roi Mandel, the head of research for MyHeritage. "We found a lot of records that support it, and we have confidence that they are related".
Mandel also added that the further you go back in generations, the likelier you are to discover that you are connected to someone.
"This is not such a surprise", he said. "It makes sense that when you go so many generations back, the chances of people being connected are higher".
This revelation as you could imagine was met with huge shock.
"Um- are my eyes working properly??," one stunned fan wrote.
One fans also wrote this.
We are all distant cousins, as everyone knows, but doesn't like to think about.

— Bill Taylor (@CalDesertSun) May 26, 2021
Mathew Perry and Courteney Cox also appeared alongside David Schwimmer, Jennifer, Aniston, Lisa Kudrow and Matt Le Blanc for the Friends Reunion special which aired yesterday. (May 27).