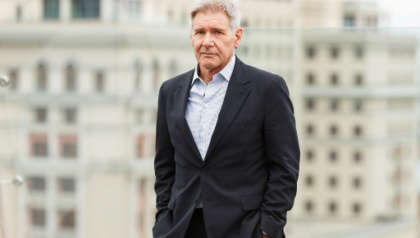 Harrison Ford has confirmed that 'Indiana Jones 5' will be his final film with the franchise.
The actor confirmed this news at a presentation for Disney's D23 Expo over the weekend (September 10).
Featuring alongside co star Phobe Waller-Bridge, director James Mangold and Lucasfilm's Kathleen Kennedy, a visibly emotional Harrison Ford revealed following a showing of the film's trailer that, "This is it! I will not fall down for you again".
"I'm very proud to say that this one is fantastic, and this is one of the reasons", Ford added while pointing at Waller-Bridge.
Ford continued, "Indiana Jones movies are about mystery and adventure, but they're also about heart, and I'm really, really happy that we have a really human story to tell, as well as a movie that will kick your ass".
Along with Ford and Waller-Bridge, the latest instalment will also include Mads Mikkelsen, John Rhys-Davies, Shaunette Renee Wilson, Antinio Banderas, Boyd Holbrook, Toby Jones, Oliver Richters and Thomas Kretchmann.
It will also be the first Indiana Jones film not feature Stephen Spielberg as director, while the score will be composed by John Williams.
Harrison Ford getting emotional talking about this Indiana Jones movie. "This one kicks ass!" #D23Expo pic.twitter.com/uvbwTxzcxd

— DisneyExaminer (@DisneyExaminer) September 10, 2022
Harrison Ford & Phoebe Waller-Bridge received a standing ovation as they join director James Mangold on stage at #D23Expo pic.twitter.com/uUZZPOx7yf

— Indiana Jones (@IndianaJones) September 10, 2022