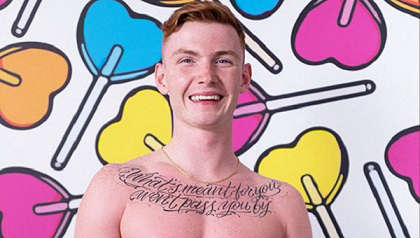 Former Love Island star Jack Keating has described his time on the show as "bittersweet".
Keating was recently dumped from the island, having failed to couple up with anyone. Love Island viewers had complained over the lack of air time that the Dubliner had got during his stint on the reality show.
Despite not coupling up with anyone, Jack Keating revealed that Paige was the woman, he was particularly attracted to on the island.
"She's a gorgeous girl and getting to know her was amazing. She was one of the nicest girls I've ever chatted to. She was so easy to talk to and I felt like I could talk to her about anything", he said.
"When I first got in there I started talking to Tasha and we shared a bed the first night - it was nice to get to know her but in the end I didn't feel like there was a spark there".
"Absolutely loved it"
Jack whose parents are Boyzone singer Ronan Keating and former model Yvonne Connolly, insists that he has "no regrets" about entering the Casa Amor Villa.
"I went in there and was myself and I wore my heart on my sleeve and I have no regrets - I absolutely loved it", Jack said. "I definitely stayed true to myself".
Despite his early exit, Jack Keating has also insisted that he would reccomend this experience to a friend.
"I met some great guys and it was nice getting to know the girls. It just went up a bit too fast", he stated. "As we were getting into it, it wrapped up. But I had a really great time, a great couple of days so no complaints!".
"100%. I would tell them it's pretty full-on but you're going to have the best time of your life! Amazing experience and I would definitely recommend it".
Keating also revealed that he was not too suprised that he did not make it through to the Villa, "I just went with the flow at that stage. I wouldn't say it was a shock, I wasn't 100% convinced I was going back to the villa but it was hard to tell".
He also stated that he will be cheering for Gemma and Luca for the rest of the show.
"Gemma and Luca for sure. I feel like they are the most rock solid. I feel like they're going to go a long way", he said.
Looking back on his favourite moments, Jack Keating called the party on the second night "great craic", adding, "The 'Raunchy Race' challenge was great craic as well".