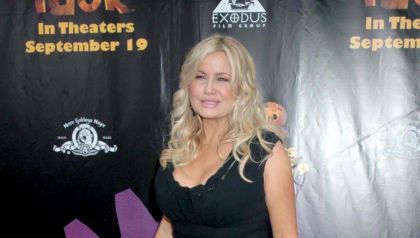 Jennifer Coolidge says she regrets "not having a plan" in the early part of her career.
The actress who has won an Emmy and Golden Globe Award across an illustrious career, admitted that "not having a plan" is one thing that she regrets.
"Now that I'm old enough to really look back at my life and certainly my mistakes, I see a lot of those", Coolidge told fellow actor Jeremy Allen White for Variety's Actors On Actors series.
"But I never had any strategy. I just went job to job. I have to say I made the terrible mistake of not riding the wave that I had early on", Coolidge continued.
"It was sort of in the '90s when I had Legally Blonde, Best In Show and American Pie. And then a few years later, there was Cinderella Story and stuff like that. But there was a moment".
"a fatal flaw of mine"
When asked by White about what diverted her, Jennifer Coolidge pinpointed one particular reason.
"I started pursuing guys. I wasn't paying attention", Coolidge explained.
"I just thought I had my whole life. I never said, 'I want to do'. I did get some jobs, but I didn't have a plan. And I think that was a fatal flaw of mine, because it took so long to get anything going later", she added. "I look back and I go, 'What was I thinking?' And then I bought a house in New Orleans, and I was consumed with fixing that up".
Jennifer Coolidge starred in Legally Blonde and American Pie in the late 1990s and early 2000s. She also recently landed a Golden Globe and Emmy Award for her role in HBO Series, The White Lotus.