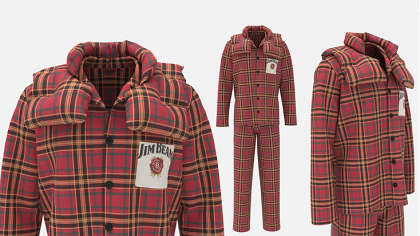 Jim-Beam-Releases-Hug-Simulating-PJ's-To-Solve-Your-Lonely-Christmas-Photo-Credit-Jim-Beam
This Christmas, the iconic bourbon and whiskey brand, Jim Beam has released hug-simulating pajamas so you can feel extra warm.
On Wednesday the company announced its unique new product, named the 'Kentucky Hug' Holiday Pajamas.
Jim Beam explained the normal looking, plaid, red flannel pajamas simulate the sensation of a hug "by applying weighted pressure on specific points around your neck, shoulders and back to replicate the feeling of an in-person hug."
Jim Beam's Senior Brand Manager, Sarah Cordova, said that the company wants "to foster that spirit of connection despite the barriers we might face this time of year. Whether it's your best friend from college or a long-distance relative, we hope you share the gift of a Kentucky Hug".
The 'Kentucky Hug' limited edition PJ's are on sale now at jimbeamkentuckyhug.com.