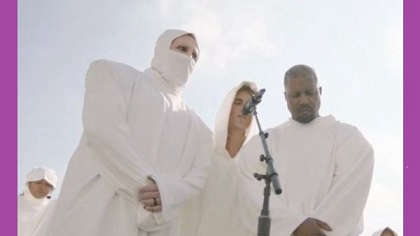 West, alongside Justin Bieber, Roddy Ricch, a choir of children and his own Sunday Service choir, kicked off a rooftop Sunday Service performance on Halloween—sharing interpolations of cuts off his latest studio album.
Kanye West, Marilyn Manson, Justin Bieber, and many more, attended a Sunday prayer service on Halloween. Kanye has started a new round of his religious services and on Halloween, he invited the rocker, who currently faces allegations of sexual misconduct and abuse from multiple women.
Manson, whose real name is Brian Warner, could be seen standing at the front and centre of a choir. Everyone in attendance came dressed completely in white, with some members covering their heads with hoods and face masks.
Covering half his face, the Kill For Me singer could be seen touching foreheads with Kanye, as they bowed together with closed eyes. Kanye's religious service was streamed live on Triller and the Fite TV app for $10 (€8.64).
Tweeting during the stream, musician Kenny Bear tweeted, "justin bieber just said 'we cast out any demonic presence on this day in the name of jesus' and marilyn manson nodded. ppl keep dming me asking if this is real and its 100% real word for word (sic)."
Although Justin Bieber kept a low profile at the service, he did speak out to pray at one point. The prayer celebration featured a children's choir, with performances of Donda songs such as No Child Left Behind, Hurricane, Moon, and Come to Life, while Pure Souls was performed by Roddy Ricch.
Prayer by Justin Bieber #SundayService pic.twitter.com/HZ7xg5raow

— Donda's Place (@dondasplace) October 31, 2021
Manson and West, whose legal name is now just 'Ye', have joined up for an event before, with West bringing the rocker out during one of his Donda listening parties. Manson had been accompanied alongside DaBaby, who at the time was embroiled in a scandal over homophobic comments he made about HIV and AIDS at Rolling Loud Festival.
Arriving earlier this year, Ye's new album, Donda debuted at No. 1, with the biggest week for any album released in 2021 (at the time). Manson appears on West's song Jail, Pt 2, although the star claimed that his record company tried to block the song from the album. Kanye wrote: "UNIVERSAL PUT MY ALBUM OUT WITHOUT MY APPROVAL AND THEY BLOCKED JAIL 2 FROM BEING ON THE ALBUM." The track was then added to the streamed record hours after release.