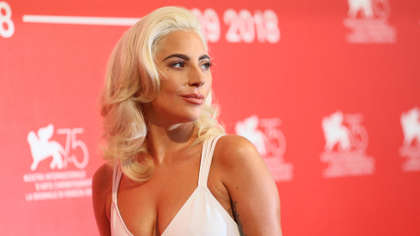 A trailer has been released for the highly anticipated true life crime drama.
Lady Gaga looks set to continue her rise in Hollywood with her role in director Ridley Scott's House of Gucci.
The film sees Gaga play Patrizia Reggiani, who was imprisoned for being the brains behind the assassination of her ex-husband, Maurizio Gucci (Adam Driver) in 1995. At the time, Maurizio was the head of Italy's world famous Gucci fashion house.
The cast also features Jared Leto, Al Pacino and Jeremy Irons as other members of the family.
House of Gucci details the murder of Maurizio and the aftermath, including the 1998 trial of Reggiani.
Maurizio and Patrizia were married in 1973 and had two daughters. They were considered Italy's equivalent of royalty but the fairytale ended in 1985 when Maurizio left his wife for a younger woman. The couple divorced in 1991. Four years later Maurizio was gunned down by a hitman on the steps outside his office. The killer was allegedly hired by Patrizia. On the day her ex–husband was murdered, Patrizia wrote a single word in her diary – "paradeisos", the Greek word for "paradise".
Patrizia was arrested in January, 1997 and charged with hiring an assassin to kill Maurizio. A year later she was found guilty and sentenced to 29 years in prison. The hitman, Benedetto Ceraulo, was sentenced to life imprisonment.
Eligible for parole in 2011, Patrizia turned down the chance to leave prison as it required her to take part in a work programme. "I've never worked in my life and I'm certainly not going to start now," she remarked at the time. She was ultimately released for good behaviour in 2016 after serving 18 years. On her release she was awarded £16 million in alimony back payments from the Gucci family.
Maurizio Gucci was the grandson of the House of Gucci's founder Guccio Gucci and the son of actor Rodolfo Gucci. Upon Rodolfo's death in 1983, Maurizio inherited his father's stake in the company, taking over the business. Under his control, House of Gucci went into the red due to his lavish overspending. In 1993 he sold his stock in the company for $170 million.
House of Gucci is the latest high profile acting role for Lady Gaga. The singer first dipped her toes into the film world with a small role in the 2013 action movie Machete Kills. In 2015 she played a lead role in the TV series American Horror Story, which landed her a Golden Globe for Best Actress. In 2018 she took her first lead role in a feature film in the latest of several remakes of A Star is Born opposite Bradley Cooper. Gaga's performance was highly praised, but it was her singing and songwriting that was recognised by awards bodies. The film's soundtrack made Gaga the first woman to an Oscar, BAFTA, Grammy and Golden Globe in the same year.
Gaga's fans have been impressed by the snippets of her performance in the newly released house of Gucci trailer, with her Italian accent generating much praise.
Not everyone is excited for the film's release however. The real life Gucci family has condemned Ridley Scott's treatment of their tragedy.
"We are truly disappointed," Maurizio's cousin Patrizia Gucci said. "I speak on behalf of the family. They are stealing the identity of a family to make a profit, to increase the income of the Hollywood system... Our family has an identity, privacy. We can talk about everything, but there is a borderline that cannot be crossed."
House of Gucci is one of two new movies from Ridley Scott arriving later this year. His period epic The Last Duel, starring Matt Damon, opens in Irish cinemas on October 15th. House of Gucci arrives a month later on November 26th.
You can watch the first House of Gucci trailer below.