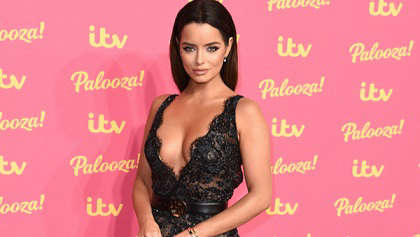 Maura Higgins has blasted a man who was photographed trying to grab her at the NTAs last week.
After leaving the event, the former Love Island contestant was surrounded by paparazzi, before being grabbed by an unknown man as she walked. Maura could also be seen dragging her hand away as she evaded his clutches.
These images have led to outrage and fresh debates over street harrassment.
"I can assure you it does"
Taking to Instagram to share her frustration, Maura wrote, "For people that think this does not happen... I can assure you it does! Here is an image of me leaving a venue after the NTAs- This guy that I have never met in my life grabbed hold of my arm and tried to pull me back towards his car".
She continued, "As you can see, I am smiling & the reason being is because pictures can be portrayed very differently i.e if I was to shout in anger at this guy, the headline might have been "Maura gets violent after a night out".
"Luckily, I had 2 girls walk with me to my car and I would NEVER leave a venue alone at night because of this reason. It's actively predatory, repeatedly violating women's personal space and boundaries. His behaviour is completely inappropriate and it's curcuial that we address the issue of street harassment".
Maura Higgins also shared other stories of young girls suffering from harrassment. She posted a clip of a young dancer telling her story of how she had to run home while on the phone to her father, telling him about a man who "wouldn't leave her alone".
Higgins' recent reference to street harrassment has also received huge praise from Social Democrats TD Holly Cains. Cains praised Higgins for raising such a "hugely important issue".
"I applaud Maura Higgins for using her platform to raise this hugely important issue", the Cork Deputy said. "It is not an exaggeration to say that every single woman will have experienced street harassment at some point in their lives".
"It must be called out and it must be stopped — and we need men to be allies in this fight. Women have a right to safe spaces and safe streets".
On top of this, Maura also took to Twitter to dismiss the idea that her relationship with pro-dancer Giovanni Pernice could suffer at the hands of the Strictly Come Dancing curse, which has seen some celebrity relationships end after taking part in the show.
"You're just boring me now", Higgins tweeted.