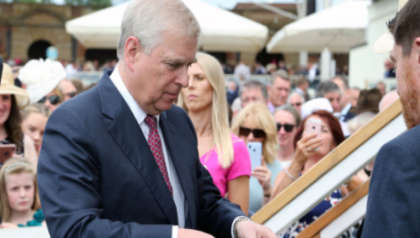 The infamous interview of disgraced British royal Prince Andrew is to be made into a film.
The film which is to be called Scoop, has been described as "exciting news".
A book from producer Sam McAlister is being adapted by screenwriter Peter Moffat. McAlister clinched the controversial interview with Andrew about his association with disgraced billionaire Jeffrey Epstein.
Prince Andrew had stepped away from the public eye, having been criticised over displaying a lack of empathy over his friendship with Epstein. He also denied having sex with Virginia Guiffre, who had alleged that she was groomed and traficked by Epstein on three separate occasions. Guiffre also claimed that she was trafficked at the age of 17, which is still a minor under US law.
Speaking to presenter Emily Matlis, Prince Andrew also insisted that he has no recollection of meeting Ms Giuffre, who also claimed that the disgraced British royal sweated heavily, while dancing with her at London nightclub, Tramp.
Prince Andrew insisted that he had a medical condition, preventing him from being able to sweat. He also claimed that he had spent the day taking his daughter to a Pizza Express in Woking.
Prince Andrew subsequently paid millions to settle a civil sexual assault case with Virginia Giuffre in a US court.
"can't actually breathe with the excitement"
Taking to Twitter, Sam McAlister confirmed plans to make this much maligned interview into a movie.
"…can't actually breathe with the excitement!!!!", she tweeted. "So…. Who should play me?".
Literally flying out of here…. My pal takes #Scoops to France 🇫🇷 pic.twitter.com/4Mp5qVfBwh

— Sam McAlister (@SamMcAlister1) July 13, 2022
The book Scoops: Behind The Scenes Of The BBC's Most Shocking Interviews was released on Thursday.