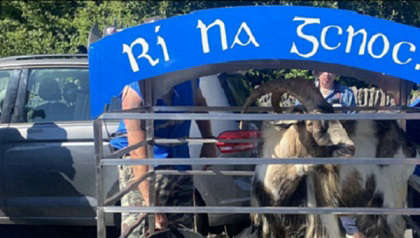 A wild goat was brought down from its cage at Kerry's Puck Fair this morning, Gardaí have confirmed.
It has been reported that the goat which was crowned 'King Puck' yesterday, is to remain in its cage until tomorrow, and there have been growing concerns regarding its welfare, due to the soaring temperatures of the last few days.
The 4 year old was crowned 'King Puck' at the fair, which attracts thousands of holidaymakers to Killorgin, South Kerry, which took place for the first time since the Covid-19 pandemic.
Many parts of the country have experienced temperatures of 26 and 27 degrees, including Kerry.
After a vet had decided that it was not feasible for the goat to stay in the cage in the midst of these soaring temperatures, a spokesperson from the fair has stated that the animal is "resting in the shade".
She said, "He is checked several times a day and this morning the vet decided it was too hot for him".
The Puck Fair have also insisted that the goat's welfare and safety are their "highest priority".
"Due to unprecedented spells of hot, sunny weather, King Puck was removed from the top of the stand this morning and placed in the shade with a constant supply of cold water and food, and is receiving hourly vet check-ups that continue to show that the goat has a good bill of health", they stated.
Festival organisers have also insisted that the goat will be "treated like a king".