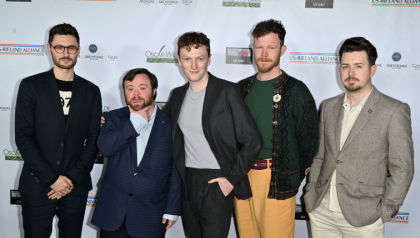 The team behind the Oscar winning An Irish Goodbye have said they want to spend the next few weeks basking in the glory of their success.
An Irish Goodbye which sees two estranged brothers reunited to fullfill their late mother's bucket list, won an Oscar for Best Live Action Short Film last weekend, and was directed by Tom Berkeley and Ross White.
Speaking recently, the pair have stated that they are keen to "bask in the glory" of their Oscars victory over the coming weeks, which will include a cinema tour.
"We're doing a big cinema tour of An Irish Goodbye, and we're really excited for that", Ross White said. "We're coming back to Belfast, and then we're in Dublin on March 24-25".
Co director Tom Berkely revealed that the next few weeks will also entail special gala screenings, including Q&A sessions with the cast and crew.
"There has been a lot of interest from people asking when they can see the film, so we wanted to give people the opportunity to see it in a cinema", Berkeley explained.
Elsewhere, Ross White also paid tribute to star James Martin who became the first actor with Down's Syndrome to win at the Academy Awards.
While insisting that representation is important, White also insisted that, "James's role isn't about his disability, it's not enough just to lump someone in front of the camera, we have to write an interesting part to get an actor like James interested and excited for it".
When asked about how well the film would do, Tom Berkeley also had this to say.
"The first moment we got Seamus (O'Hara) and James together in a room, there was something really special about their relationship and their rapport they were able to build very quickly", he said. "It felt like that chemistry was going to drive the film into the place it got to, we were aware it was something special, but we never thought it would get this far".
The pair have also spoken about future projects on the horizon, including a film named The Golden West, which will see two Irish women flee the Irish Famine and move to America, to join the Gold Rush, which is set to star Eileen Walsh and Aoife Duffin.
Berekely also added, "In terms of the rest of this year, we're talking about scurrying away to a little remote house to get back to writing, and hopefully write a debut feature, we've got a couple of things we want to have a look at".