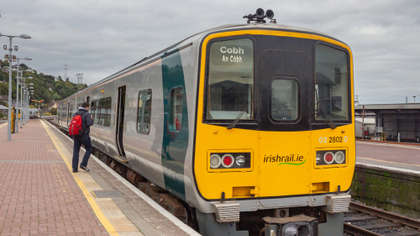 National Bus and Rail Union members are set to ballot for industrial action due to a failure to protect them from rising anti-social behaviour on Ireland's trains.
Members "have had enough," according to NBRU General Secretary Dermot O'Leary.
O'Leary said staff are increasingly fearing for their safety with some reporting threats of sexual and physical assault from members of the public. They have also regularly witnessed drug-taking and the open sale of drugs.
He cited incidents on the Cork-Dublin line as going "beyond what would be described as low grade anti-social behaviour."
His union's members "do not want to be on strike but want a safe environment to work in and a safe environment for people to travel in."
O'Leary has called for the gardaí to play a greater role in tackling anti-social behaviour on the country's transport networks. He also criticised Iarnrod Éireann management, describing them as "out of touch with what is happening on the frontline."
Iarnród Éireann said it has implemented measures to provide "as safe a travelling and working environment as possible." They highlighted joint patrols with gardaí "particularly on DART, Heuston Commuter, and the Cork route, including specific programmes such as during the current mid-term and Halloween season."
"Disrupting, through industrial action, the overwhelming majority of customers, who are law-abiding and rely on our services daily, will not achieve this," Iarnród Éireann management warned potential strikers.