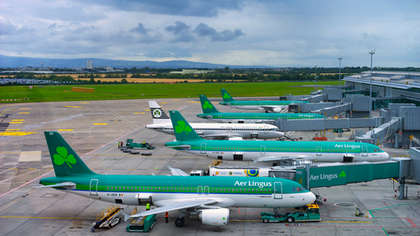 More than 22,500 passengers passed through Dublin Airport on Monday, the first day of the easing of international travel restrictions.
The number is 87% less than on the same day of 2019. During the peak season of 2019, an average of 116,000 people passed through the airport on a daily basis. The daily average for the past two weeks has been 14,000.
RyanAir CEO Eddie Wilson is predicting a "return to some level of normality" shortly, and claims the EU digital travel cert is working well.
Emirates airline's Enda Corneille said his airline was experiencing high levels of bookings and agreed that the EU digital travel cert was a success and would prove a boon to all airlines.
"Travel will become a badge of honour," Wilson predicted. "It will go from a trickle of demand to a tsunami. We're already seeing strong bookings for the rest of year and especially at Christmas."
Minister of state for international and road transport and logistics Hildegarde Naughton assured those who were waiting for an international travel cert would receive one.
"There have been issues with the helpline, but I can assure you the Government is working very hard in order to get that system back up and running as quickly as possible," she said. "This was the number one ask from the aviation sector that we can reopen international travel as safely as possible, adhering to public health guidance, so I would hope that that helpline will be back up and running as soon as possible."
More than a million COVID certs have been emailed to people to date, with over 600,000 sent via post.