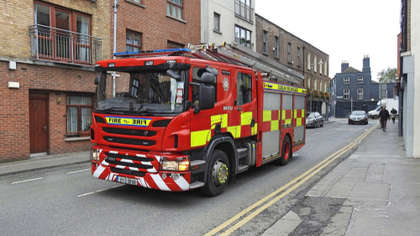 Dublin Fire Brigade continues to fight the wildfires that have plagued North Dublin over the past week.
Three units battled another blaze at Howth on Sunday as an orange fire warning was put in place for the area.
Dublin Fire Brigade has issued warnings to the public regarding the dangers of wildfires in the summer months.
"The increase of human activity in these areas brings with it a higher incidence of fire. You should not light any campfires or barbecues, take care when disposing of smoking materials and report anti-social or suspicious behaviour to An Garda Siochana," a spokesperson said. "Should you come across a wildfire, retreat to a safe position and alert us on 112 or 999. Don't assume someone else has rang. The earlier we know about the fire, the quicker we can extinguish it."
On fighting blazes in rural areas, Dublin Fire Brigade said "These fires are challenging to extinguish as they are difficult to reach locations and on uneven terrain. Spread of the fires is rapid as the vegetation is dry and breezes help spread the flames."
Wildfires have become increasingly prevalent across the globe in recent summers, with the Pacific NorthWest of the US and Canada currently in the news with devastating blazes causing mass destruction.