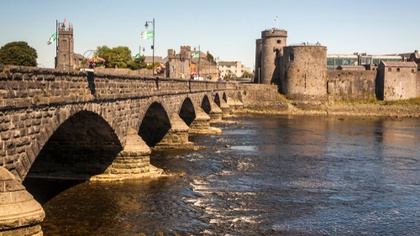 King John's Castle may come under the management of Limerick City and County Council later this year.
Shannon Group, which currently controls the castle, said it plans to transfer control of its heritage sites to local authorities. The proposal is currently under consideration by the Cabinet.
Speaking about the plans, a Shannon Group spokesperson said "The transfer of these heritage sites aligns with the two local authorities' tourism development strategies and will provide opportunities for enhancing synergies and maximising the potential of these heritage sites in the region. The central role which local authorities are playing in tourism product development and sustainable tourism development make them a natural fit for Shannon Heritage."
Shannon Group intends on focussing their efforts on the development of Shannon Airport as the aviation industry recovers from the damage wrought by the pandemic. A spokesperson explained "At a time of unprecedented challenge in the aviation sector, there is consensus that the recovery of aviation is critical to the recovery of tourism. 75% of our tourism economy is dependent on international visitation and 90% of those come by air. We have come through many crises in the past and we got through them by planning for the future and focussing our efforts on where they have best impact."
The 200 employees at Shannon Group's heritage sites have been assured that they will not be affected by the move.