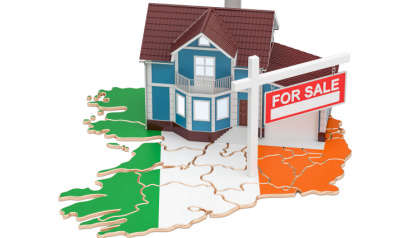 According to the latest House Price Report provided by daft.ie, the demand for property is holding up, despite an ongoing supply shortage, and interest rate spike.
Official figures which were released by the Central Statistic Office, have said that prices nationally have increased by 1.5% in the year to July, the slowest annual rate of price growth in 3 years.
While prices in Dublin continue to fall, prices are still going up on a month basis, with prices in the capital increasing for a second month running in July.
According to the House Price Report, asking prices for properties in the 3 months to September, have increased by 1.1%, compared with the previous three month period.
The report also states that in the third quarter of this year, prices nationwide have spiked by 3.7% from the previous year, with the average price standing at €322,602, roughly 13% below the Celtic Tiger peak.
The Dublin prices would appear to show signs of renewed stability in the market across Dublin, with recorded prices increasing by 1.4%.
Elsewhere, the report also added that prices in Cork were 1.7% higher year on year, while the rate of annual increase was higher in Waterford, Galway and Limerick, between 3.9% and 4.7%.
Inflation remains greater outside the main cities, with a 4% in Leinster, almost 6% in Munster and just over 8% in Connacht-Ulster.
However, supply remains a major issue, with the number of homes available to buy nationwide standing at just under 12,200, compared with 15,500 available to buy in the previous year.
This also remains well below the 2019 average of 24,200.
Ronan Lyons, economist for Trinity College Dublin, and author for this report. had this to say.
"The availability of homes is down over 20% year-on-year, at levels of availability only previously seen during the pandemic," he said. "While the flow of properties coming on to the market has fallen, it is down only slightly comparing the last year with the previous 12 month period. With supply only down slightly but availability down a lot, demand is holding up far better than might have been expected given the rise in interest rates".
Lyons did add that 30,000 are expected to be built this year.
"In the sales segment, the second-hand market remains very tight," he said. "This came about originally because of the pandemic but the market has never fully recovered. With interest rates outside of the control of local policymakers, the other solution is to continue to increase the rate of completions".