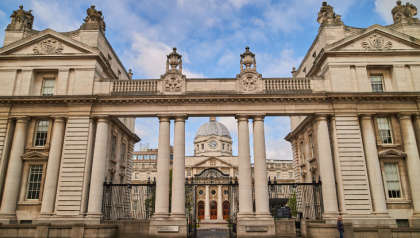 The security of Leinster House will be under review today, after TDs and staff were unable to leave the grounds of the building for several hours due to protests.
Seán Ó Fearghaíl, Ceann Comhairle of the Dáil, has said that serious concerns have been raised regarding the security of the national building, following these protests.
While acknowledging that protesting is part of a democracy, Mr Ó Feaghaíl has stated that there are parts of the protests which need to be reviewed.
According to the Ceann Comhairle, this review will involve gardaí and security staff working at Leinster House. These protest come amid the ongoing cost of living and housing crisis, which were discussed at length in the Dáil yesterday.
Mr Ó Fearghaíl also played a key role in establishing a task force looking at Safe Participation in Political Life. Led by former Garda Commissioner Nóirín O'Sullivan, this task force is due to report before the end of this year.