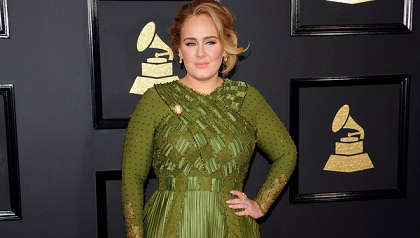 Vogue have confirmed that Adele will feature on both the US and UK editions of the magazine in what will be the first ever collaboration of this kind in its 129 year history.
After it was posted on her Instagram account, the photo of Adele's Vogue cover received 500,000 likes in 10 minutes.
American Vogue 🇺🇸https://t.co/Y06nqbIH94 pic.twitter.com/JshzotZqOq

— Adele (@Adele) October 7, 2021
The US cover features the singer in a long green gown, while the UK cover sees her wearing a yellow dress and a long silver brooch.
British Vogue 🇬🇧https://t.co/UgGgfbF6lZ pic.twitter.com/V3p8UcZ7mk

— Adele (@Adele) October 7, 2021
"explain to him"
In April 2019, Adele confirmed her split from husband Simon Konecki with their divorce made official in March of this year. The pair share custody of their 8 year old son Angelo.
Speaking to the magazine, Adele revealed that a lot of her upcoming album is written for her son Angelo, explaining why his parents split up.
Adele said, "I just felt like I wanted to explain to him, though this record, when he's in his 20s or 30s, who I am and why I voluntarily chose to dismantle his entire life in the pursuit of my own happiness".
The Chasing Pavements singer added, "It made him really unhappy sometimes. And that's a real wound for me that I don't know if I'll ever be able to heal".
Speaking about her divorce, Adele said, "It just wasn't right for me anymore. I didn't want to end up like a lot of other people I knew".
"It wasn't miserable miserable, but I would have been miserable had I not put myself first".
"But, yeah, nothing bad happened or anything like that".
Adele claimed that there were people "everywhere trying to get stories and I just hated it".
"I was embarrassed. I was really embarrassed. That thing of not being able to make something work".
"We've been trained as women to keep trying, even by the movies we watched when we were little. At the time it broke my heart, but I actually find it so interesting now. How we're told to suck it up".
"Being careless"
Adele also explained her post-divorce party lifestyle in LA.
"I thought I was being carefree, but I think there was an element of being careless", she revealed. "Then again, I have security guards coming out my ass, so nothing ever got out".
"I was falling out the back door of the bar rather than falling out the front".
"Not frazzled by it at all"
Adele is now in a relationship with sports agent Rich Paul, founder of the managment company Klutch Sports Group. This company represents basketball household stars including LeBron James, John Wall and Anthony Davis.
Adele told Vogue that unlike previous relationships, Rich Paul is not "frazzled" by the strong media attention which comes from being seen out in public with her.
"They'd find it stressful being out or seen with me. Whereas he's not frazzled by it at all", she said. "It feels like it's consistent and considerate enough that I don't care who knows".
"He's great. He's so f****** funny. He's so smart, you know".
Adele has confirmed that a new album is in the works, her first material since 2015.