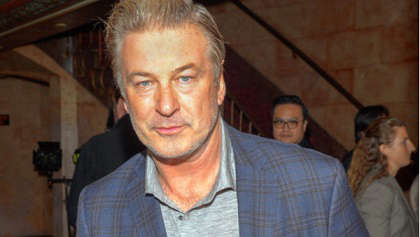 According to an affadavit released recently, Alec Baldwin was drawing a revolver across his body and pointing it at a camera when rehearsing the set of "Rust", when the weapon fired and fatally shot cinematographer Halyna Hutchins.
It was also reported in Sante Fe court documents, that Baldwin was handed this prop gun and was told it was not loaded. It was also reported that the prop had been handed to Baldwin by the film's assistant director Dave Halls. Halls has more than 20 years experience in the business.
The affadavit read, "Joel stated that they had Alec sitting in a pew in a church building setting, and he was practicing a cross draw. Joel said he was looking over the shoulder of (Hutchins), when he heard what sounded like a whip and then loud pop".
"An enormous loss"
Alec Baldwin was also photographed in tears outside a hotel in Sante Fe with Halyna's husband. Mrs Hutchins was fatally shot in the chest.
Speaking at a vigil, Mr Hutchins called his wife's death an "enormous loss".
Nobody has been charged for this shooting while sheriffs continue their investigation. Concerns have also been raised about safety protocols by press and social media outlets.
It was also reported in the LA Times, Alec Baldwin's stunt double supposedly fired two rounds from a firearm having been told that the gun was unloaded. Last week, Rust Movie Productions said that they "were not made aware of any official complaints concerning weapon or prop safety on set, we will be conducting an internal review of our procedures while production is shut down".
Hannah Gutierrez, the movie's chief armourer is also involved in the sheriff's probe.