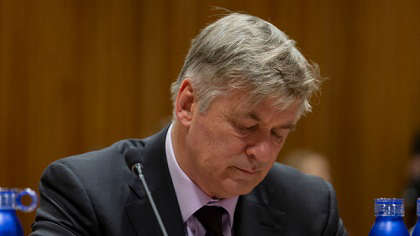 Alec Baldwin has deleted his Twitter account, just a few days after he conducted his first in-studio interview about the fatal shooting on set of his movie Rust.
American actor, Alec Baldwin has deleted his Twitter account following his first interview since the fatal on-set shooting. Baldwin recently fired a revolver, which contained live ammunition, killing cinematographer, Halyna Hutchins, and injuring director Joel Souza.
At the time, Baldwin was unaware that the gun was loaded with live rounds when he fired. Issuing his first statement almost two months later, the actor used his social media account to voice his thoughts. However, Twitter users have recently noticed that his account has since disappeared, as well as his wife, Hilaria Baldwin. It comes after Baldwin gave his first interview about the incident last Thursday.
The 63-year-old shed tears while speaking to Good Morning America host, George Stephanopoulos, while claiming that he and the cinematographer "had something profound in common, and that is we both assumed the gun was empty".
When asked if he felt guilt over her death, Baldwin said, "No. No. I feel that... someone is responsible for what happened and I can't say who that is, but I know it's not me. Honest to God, if I felt that I was responsible, I might've killed myself if I thought that I was responsible. And I don't say that lightly."
Baldwin explained he would like it clear that he "would go to any lengths to undo what happened." The actor hopes to not come across as a victim, "because we have two victims here," (Hutchins and Souza).
Alec insists that he did not pull the trigger which killed Halyna Hutchins, saying, "No, no, no, no, no, I would never point a gun at anyone and pull a trigger at them, never." When asked as to how a real bullet got on set, he replied that he has "no idea, someone put a live bullet in a gun, a bullet that wasn't even supposed to be on the property."
Although Baldwin has already been sued twice - by the film's gaffer and the script supervisor, he believes it is unlikely he will be charged criminally.